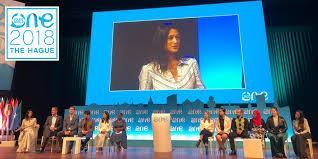 https://www.oneyoungworld.com/news-item/oyw-announces-young-leaders-agai...
The YLASV initiative positions the young leaders selected as leading voices in the fight against sexual and gender-based violence, showcasing their work, personal initiatives, and expertise with national and international decision-makers, organizations, and providing them a platform to share their messages of change at national and international events.  The YLASV's eleven young leaders will be tasked with working together to create tangible change in preventing sexual and gender-based violence worldwide and the role young people play in this effort.   
These young leaders include:
Sexual and gender-based violence (SGBV), in all its forms, is a violation of human rights, denying the human dignity of the individual and the positive development of healthy relationships, families, communities, and nations. At present, one in three women and girls and one in six men and boys worldwide will experience some form of sexual or gender-based violence in their lifetime, with recent research has shown that these numbers are much higher in developing countries and humanitarian emergencies. 
The Young Leaders are also matched with expert mentors from the non-profit, international, academic, and government sectors. The YLASV launch on October 18, 2018 is chaired by One Young World Counsellor Fatima Bhutto, alongside Rosario Dawson and Abrima Erwiah and will focus on encouraging all One Young World delegates to take action in their own communities to prevent, intervene, and respond to sexual violence in all its forms.