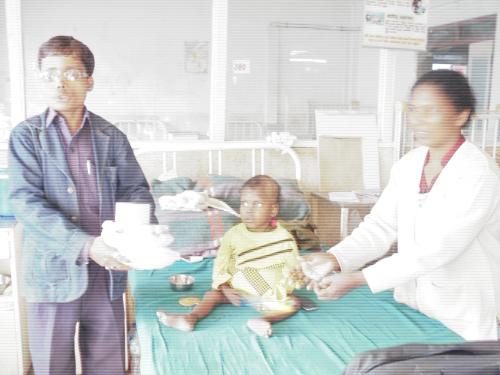 http://www.indiegogo.com/projects/thalassemia-no-more/x/4688045
Paras is a young Nepali citizen with a problem, a huge problem: he is a person living with thalassemia, a lethal blood disease that requires expensive drugs and weekly blood transfusions. http://en.wikipedia.org/wiki/Thalassemia
There is also a way for Paras to totally recover and it is only through midol transplant, not only a very expensive operation but also technically complex one that requires advanced medical know how and technology not available yet in Nepal.
All around the country there are not so many people living with thalassemia, approximately 150 and the great majority of them have access denied to any form of treatment.
Paras' s sister already died of the same disease when she wa sa teenager but fortunately Paras is still alive and he wants to live for much longer.
His family is fairly average from the Tarai. Para's father is a school teacher and despite financial hurdles Paras has managed to survive till now and also doing relatively ok with many ups and downs. (Nowadays he is in the hospital and hopefully he will discharged soon)
Paras is smart, he knows how to network and he always tries. Ultimately heis a fighter and never gives up: as a true master of resilience, Paras endures the pain and keeps trying to have a regular life when actually it is a not normal life at all.
Besides working hard, on daily basis, to keep his survival skills intact, Paras cares a lot about others and he is actively engaged with the National Thalassemia Association where he does counseling and supports patients and their families.
Moreover, Paras has also set up his own organization the All Paras Thalassemia Association as a vehicle to enhance his advocacy work and ensure that the rights to health envisioned in the Constitution of the country could also include persons living with Thalassemia.
Certainly in a scenario where thousands of people are not yet enjoying their most basic health rights, then how can we expect the Government of a least developed country like Nepal to provide support for persons affected by such a rare disease?
At the same time how can we accept this form of natural selection or better natural elimination dictated by budget constraints and a public health policy making still focused at building its foundations?
The reality is that we are still not at all equal in front of the law and breaking this perverse cycle of exclusion and marginalization remains challenging. That's what campaigning and advocacy are for: create awareness and ensure a change in the decision making process for issues that are perceived as not important as thalassemia and many more rare diseases.
At ENGAGE, the not for profit venture I co-founded with my wife Kalpana, we believe in the creation of a volunteering inspired society where people feel comfortable to help. It is about solidarity and altruism and every single person should always have a bit of that.
The stress of everyday life, the pressure we all face might squeeze these inner feelings and ENGAGE would love to help people recharge and brig back these key "constituents" of human life.
For this reason, we decided to launch an internet based campaign where people might donate their money for Paras being able not only to live longer but also to keep fighting for the rights of persons like him that continue to be neglected.
It is an advocacy campaign that envisions ways to make thalassemia a top health priority; it is about networking and lobbying the Government for better health treatment for persons living with thalassamia; importantly it is all about drugs accessibility.
We hope that a pharma giant like Novartis that is already doing some good works in drugs accessibility in developing countries can also do something onthalassemia. Novartis produces the best drugs for this disease but their cost is too prohibitive. Hopefully this might change if some arrangements are made for some sort of subsidies or partial waivers.
The campaign also includes Paras's dream: travelling to Abu Dhabi at the end of this month to attend the World Thalassemia Congress. It is a great opportunity for Paras to advocate, learn more and come back to Nepal full of energies to change the destiny of people like him, offering them a different option: instead of quick death, a longer life, not a normal one but still a better one.
I met Paras four years ago in a drug store and for a while we have been in touch but then we were out of touch for long till by chancegetting back together approximately six months ago. Call it destiny.
Now we have developed a friendship and mutual respect and I could not help but trying some ways to help him. Not an easy task but I have to try.
Today Paras should be discharged. Yesterday he texted me from the hospital" simo, I am fine, now, the transfusion went well. I  just want to go to the conference to bring my experience. I really want to go"
Paras never gives up nor I.
PS
By clicking on this web page or by linking it on facebook, you are making it easier for Paras to be able to raise the money for his campaign.