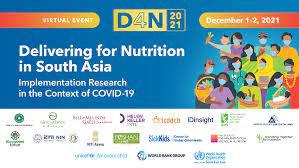 https://socialprotection.org/discover/events/online-event-delivering-nut...
More info: https://poshan.ifpri.info/delivering-for-nutrition-in-south-asia-impleme...
COVID-19 has disrupted health systems, nutrition services, and food systems around the world, including South Asia. Research-based evidence and programmatic experiences are essential to support stakeholders to restore services and re-orient programs and policies to support better nutrition outcomes.
We, a consortium of co-hosts from around South Asia, are pleased to announce a virtual conference on 'Delivering for Nutrition (D4N) in South Asia: Implementation Research in the Context of COVID-19' on December 1-2, 2021. D4N 2021 aims to bring together evidence that can inform and support policy and program initiatives in South Asia to prioritize and improve maternal and child nutrition during the COVID-19 pandemic and beyond.
With this overarching purpose, the key objectives are to:
Share evidence of the impact of COVID-19 on maternal and child nutrition
Highlight adaptations to support implementation of health and nutrition interventions and social safety net programs
Identify lessons learned from implementing programs to support maternal and child nutrition during the pandemic
We are inviting abstracts on research studies and implementation experiences, explicitly focused on COVID-19, and related to:
Implementation, coverage, and quality of maternal and child health and nutrition interventions/programs
Implementation, coverage and quality of social safety net programs
Impacts on infant and young child feeding practices, diet quality, food security, nutritional status or other outcomes
Other relevant implementation or research on nutrition and COVID-19
CO-HOSTS

List of co-hosts:
Aga Khan University (Pakistan)
Alive & Thrive (India)
Bill & Melinda Gates Foundation (BMGF) (India)
Helen Keller International (HKI) (Nepal)
IDinsight (South Asia)
Institute of Policy Studies (IPS) (Sri Lanka)
International Centre for Diarrhoeal Disease Research, Bangladesh (icddr,b) (Bangladesh)
International Food Policy Research Institute (IFPRI) (South Asia)
National Institute of Nutrition (NIN) (India)
NITI Aayog (India)
SickKids Centre for Global Child Health (South Asia)
Standing Together for Nutrition (STfN) (Global)
Society for Implementation Science in Nutrition (SISN) (Global)
UNICEF Regional Office for South Asia (ROSA) (Regional)
World Health Organization South-East Asian Regional Office (WHO-SEARO) (Regional)
World Bank South Asia (Regional)