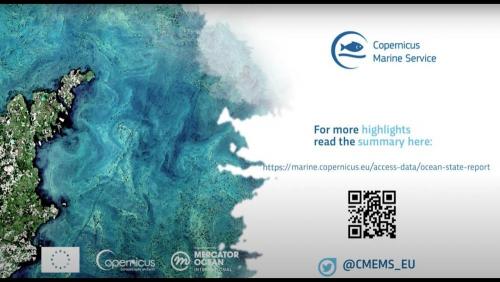 Ocean State Report 5 Summary Now Available | CMEMS (copernicus.eu)
Related article: 
Climate change: EU-backed study shows alarming state of oceans | News | DW | 22.09.2021
The Summary is divided into four chapters, presenting the data of a changing ocean
from several angles. Chapters one, two, and three present the state and key observations of a
changing ocean, examine the evolving impacts of these changes in
line with climate change, and discuss the importance of sustainable ocean governance for 
managing impacts. 
The Summary concludes with chapter four which highlights new tools developed using 
Copernicus Marine Service products and illustrates how accurate and timely information is
key to monitoring, understanding, and adapting to a changing ocean.  
The sections below highlight the key points discussed in each chapter.  
A CHANGING OCEAN
Chapter one discusses the importance of the ocean, its current state, and the key changes
observed in 2019 and 2020. The global ocean covers 71% of the Earth's surface and is
responsible for regulating the Earth's climate and sustaining life.
However, the ocean is undergoing swift, stark, and severe changes
from natural variations, overexploitation, and anthropogenic influences.
Human-induced climate change has already contributed roughly 1.1°C to
global warming [1], causing unprecedented changes which are affecting the ocean, its coasts,
and its composition.  
To track these changes, key Ocean Monitoring Indicators – a set of simple, easy-to-understand
parameters for describing, measuring, and monitoring the state of the ocean – observe relevant
ocean phenomena, such as sea level rise or sea ice decline.
The summary draws on this catalogue of indicators to provide the data necessary to
monitor current changes and predict future changes across the Blue, Green, and White ocean.