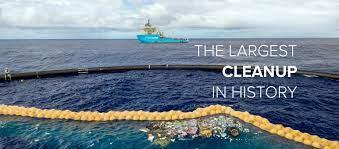 BIG PROBLEMS REQUIRE 
BIG SOLUTIONS
Every year, millions of tons of plastic enter the oceans, primarily from rivers. And the plastic that's afloat within the oceans isn't going away by itself. To effectively solve the problem, we need to both turn off the tap  and mop the floor  at the same time.
The Ocean Cleanup, a non-profit organization, is developing and scaling technologies to rid the world's oceans of plastic. Our aim is to put ourselves out of business once the oceans are clean.
A SIMPLE IDEA TURNED INTO A 
MOONSHOT PROJECT
At 16 years of age, Boyan Slat saw more plastic bags than fish when scuba diving in Greece. He thought: "Why can't we just clean this up?" This question led him to research the plastic pollution problem for a school project. He learned about plastic accumulating in five large oceanic gyres, the largest one being the Great Pacific Garbage Patch. In 2012, Boyan Slat held a TedX talk about how to rid the world's oceans of plastic using technology. The video went viral, and the momentum that followed allowed him to drop out of school and found The Ocean Cleanup.