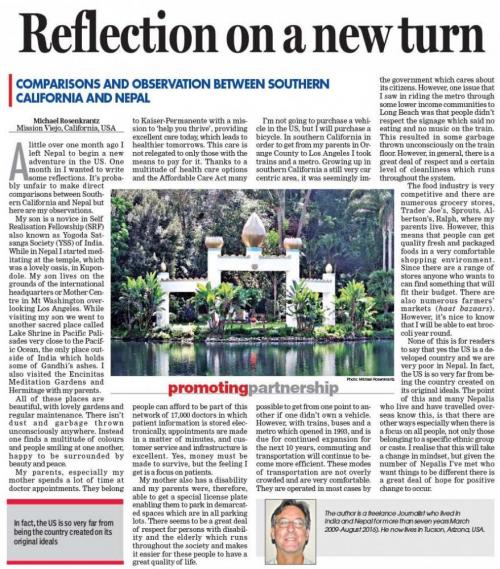 Mission Viejo, California, USA.  
A little over one month ago I left Nepal to begin a new adventure in the US.  One month in I wanted to write some reflections.  It's probably unfair to make direct comparisons between southern California and Nepal but here are my observations. 
My son is a novice in Self Realization Fellowship (SRF) also known as Yogoda Satsanga Society (YSS) of India. While in Nepal I started meditating at the temple, which was a lovely oasis, in Kupondole.  My son lives on the grounds of the international headquarters or Mother Center in Mt. Washington overlooking Los Angeles.  While visiting my son we went to another sacred place called Lake Shrine in Pacific Palisades very close to the Pacific Ocean, the only place outside of India which holds some of Gandhi's ashes.  I also visited the Encinitas Meditation Gardens and Hermitage with my parents.  
All of these places are beautiful, with lovely gardens and regular maintenance.  There isn't dust and garbage thrown unconsciously anywhere.  Instead one finds a multitude of colors and people smiling at one another, happy to be surrounded by beauty and peace.
My parents, especially my mother spends a lot of time at doctor appointments.  They belong to Kaiser-Permanente with a mission to "help you thrive",   providing excellent care today, which leads to healthier tomorrows.  This care is not relegated to only those with the means to pay for it.  Thanks to a multitude of health care options and the Affordable Care Act many people can afford to be part of this network of 17,000 doctors in which patient information is stored electronically, appointments are made in a matter of minutes, and customer service and infrastructure is excellent.   Yes, money must be made to survive, but the feeling I get is a focus on patients.
My mother also has a disability and my parents were therefore able to get a special license plate enabling them to park in demarcated spaces which are in all parking lots.  There seems to be a great deal of respect for persons with disability and the elderly which runs throughout society and makes it easier for these people to have a great quality of life. 
I'm not going to purchase a vehicle in the US, but I will purchase a bicycle.  In southern California in order to get from my parents in Orange County to Los Angeles I took trains and a metro.  Growing up in southern California a still very car centric area, it was seemingly impossible to get from one point to another if one didn't own a vehicle.   However, with trains, buses and a metro which opened in 1993, and is due for continued expansion for the next 10 years, commuting and transportation will continue to become more efficient. These modes of transportation are not overly crowded and are very comfortable. They are operated in most cases by the government which cares about its citizens.  However one issue that I saw in riding the metro through some lower income communities to Long Beach was that people didn't respect the signage which said no eating and no music on the train.    This resulted in some garbage thrown unconsciously on the train floor.  However, in general, there is a great deal of respect and a certain level of cleanliness which runs throughout the system. 
The food industry is very competitive and there are numerous grocery stores, e.g. Trader Joe's, Sprouts, Albertson's, Ralphs, etc. where my parents live.  However this means that people can get quality fresh and packaged foods in a very comfortable shopping environment.  (Typically I didn't shop at stores such as  Bhatbhateni, when I was living in Kathmandu but would buy from local vendors).     Since there are a range of stores anyone who wants to can find something that will fit their budget.  There are also numerous farmers' markets (haat bazaars).  However, it's nice to know that I will be able to eat broccoli year round. 
None of this is for readers to say that yes the US is a developed country and we are very poor in Nepal.  In fact the US is so very far from being the country created on its original ideals.  The point of this and many Nepalis who live and have traveled overseas know this, is that there are other ways especially when there is a focus on all people, not only those belonging to a specific ethnic group or caste.  I realize that this will take a change in mindset, but given the number of Nepalis I've met who want things to be different there is a great deal of hope for positive change to occur.