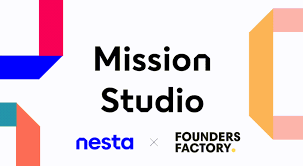 Nesta and Founders Factory Join Forces to Build Ventures for Healthier Lives and Sustainable Futures
Monday, 18 October 2021
Share
The innovation agency Nesta and Founders Factory have joined forces to create new commercial ventures which will tackle some of the UK's biggest social and environmental challenges.
Mission Studio is a first-of-its-kind partnership designed to drive forward Nesta's 10-year mission to halve obesity rates, tackle loneliness, and slash household carbon emissions by 28%. The venture builder will support Nesta's broader objective to help people live healthier lives and create more sustainable futures.
Mission Studio will create, spin out, and invest in three innovative new ventures each year until 2024. Ventures will focus initially on tackling loneliness, living healthier lives and reducing household emissions.
A cornerstone of the Mission Studio will be its industry leading 'Diversity by Design' strategy to attract, nurture and invest in diverse founding teams. This will focus on ambitious targets* for investing in underrepresented talent, identifying key indicators of founder success that look beyond university or employer history as well as matching business concepts to the lived experience of founders.
Combining Nesta's expertise in social innovation and Founders Factory's approach to building ventures that work for the people they serve, Mission Studio will also work closely with target customers including diverse groups to test products/services during the build phase.
The move breaks new ground for both Founders Factory and Nesta. The Mission Studio has the unique capability to create new ventures with the potential to achieve scale, transform markets and positively impact generational social problems.
Matt Seden, Nesta's Chief Strategy Officer, said: "At Nesta we've set ourselves ambitious 'moonshot' goals, tackling some of society's most urgent and intractable problems through innovation. New ventures play a vital role in spreading innovation and have the potential to change lives for the better. We were attracted to Founders Factory's commitment to improving diversity in new ventures and can't wait to unlock the power of a market-leading venture builder to bring about a healthier life and a more sustainable future for thousands - potentially millions - of people."
Claire Morris, Chief Studio Officer at Founders Factory, said: "As passionate advocates of 'profit with purpose', we're excited to partner with Nesta to build tech ventures tackling society's greatest challenges. Central to this is our 'Diversity by Design' strategy and we're proud the Mission Studio is uniquely placed to empower more diverse founding teams. As a venture builder, we can provide bespoke operating support, mentorship and the ability to earn a salary while founders build their business - essentially overcoming many of the barriers to entry that diverse groups often face."
Mission Studio by Nesta and Founders Factory will create, spin out, and scale new tech startups reducing household carbon emissions and improving health through tackling obesity and loneliness
Notes for editors:
ED&I targets include 50% women founders, 35% founders from minoritised ethnic backgrounds, 15% from lower socio-economic backgrounds.