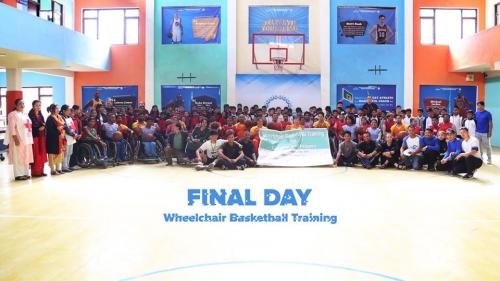 In August 2016 I left Nepal with a lot of tears. I had little idea as to when I might return to the country that I had lived in for the past four years, leaving behind many good friends and memories. But opportunity recently arose and a month ago I found out I'd be visiting again.
From Tuesday October 29 through Wednesday November 6 I was in Kathmandu for wheelchair basketball training through the International Committee of the Red Cross (ICRC). As soon as I deplaned at Tribhuvan International Airport I immediately felt as if I was home.
This trip was very special. I was paired with an exceptional wheelchair basketball coach from Canada, Paul Bowes. Together we would be coaching about 40 players and coaches in order to provide more tools to help improve the level of play in Nepal. The trip was made possible by Jess Markt, an ICRC employee, who has been developing wheelchair basketball throughout the world. As a volunteer, Jess started the now thriving wheelchair basketball program in Afghanistan and has worked in numerous countries creating more opportunities for athletes.
The weeklong clinic reiterated how important comprehensive partnerships are for moving the world forward. The ICRC partnered with the Nepal Spinal Cord Injury Sports Association (NSCISA) for program implementation and with Bouddha International School for a venue and support. ENGAGE sent their trained coaches and held a presentation at the A-LOFT hotel, which showed positive Corporate Social Responsibility by providing a free venue and snacks. Shreepa Shrestha Corporate Manager of B.L.Conglomerate Pvt. Ltd. (a division of Chaudhary Group) attended this presentation, watched some of the clinic, and was at the closing ceremony, which also included governmental and school officials.
This is what it takes—collaboration between corporates, government, and the social sector—to move society forward. There is no other way if there is to be full buy-in leading  to societal inclusion.
Another important point is that when we do something in life we must always think of and do for others. I try to live my life to help others get better. This starts from the language that we use and how we think about other people. If one thinks of a person with "disability" as having little or no ability and feeling sorry for them then that is what they become to us. However, when we think of those with a physical "disability" as being athletes, full productive members of society, then all we see is ability. The CEO at the National Trust in India where I worked from 2009–12 used to say "dis(cover)ability." Coach Bowes stated on more than one occasion, "I no longer see the wheelchair, I only see the athlete."
The longer that I work in this field the more that I only see people who are no different than anyone else, no matter where they live, and what they do in life. I see people who struggle but remain resilient, consistently pushing through barriers.
Mostly what I saw was tremendous athleticism from people who may have been born with or had a spinal cord injury, or might have been impacted by the 2015 earthquake or had some other accident. It didn't matter that many of them had to play in their day chairs or that they have to daily push through the streets of Kathmandu for a number of kilometers in order to attend school or their jobs. What mattered most was that the athletes turned up every day with a smile on their face, ready to learn and have fun. As with all athletes, anyone choosing to participate, no matter what their ability, the life lessons learned on the playing field carry through to all aspects of their lives.
The time I spent in Kathmandu was a lot of joy. As we all in one voice shouted, "We are Nepal," I thought, I can't wait to come back here, to my home, again.