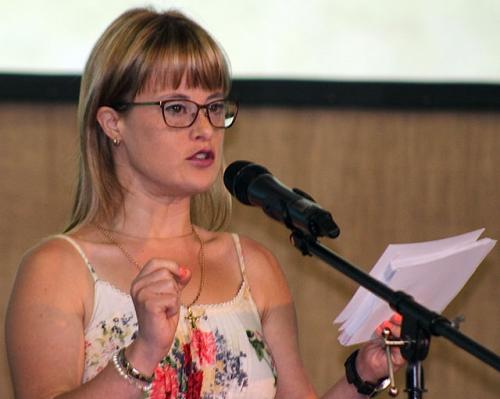 https://www.namibian.com.na/65032/read/I-am-not-less-human-%E2%80%93-Dow...
In fact, she adds, they are as human as everyone else; nothing less... just one chromosome more. Down's Syndrome is a genetic disorder caused by the presence of all or part of a third copy of chromosome 21. It is typically associated with physical growth delays, characteristic facial features, and mild to moderate intellectual disability.
Brynard (35), who hails from Bloemfontein, was living proof of her own words on Saturday at Swakopmund when she delivered a heart-rending speech to the coastal town's residents. She was invited by Elmarie Mostert of Stepping Stone educational facility for children with special needs.
Proceeds of the ticket sales to hear Brynard will go to the development of a fully fledged school and centre for children with special needs at Swakopmund, which is expected to be one of a kind in Namibia.
Brynard is the only person with Down's Syndrome who has a tertiary teacher's diploma (in educare), without any amendments being made to the course (or special assistance) in South Africa, and it seems, in the world.
Although she may not have the same life as her 'normal' mother and sisters, she states that her life has just as much ups and downs as everyone else's, but that her mission in life is one that cannot be replaced by anyone else.
"I cannot win a modelling competition, or even have children. But being able to help others like me and make a difference is what gives meaning to my life," she told about 100 people – some of them parents of children with Down's Syndrome, while others were adults who also have Down's Syndrome.
Brynard has written a book titled: 'Shéri: Just the way I am', which does not just tell her life story, but also serves as an encouragement and guide for people who live and care for those who have Down's Syndrome. She lamented the stereotypical perceptions of Down's Syndrome, and its consequences.
"It is very sad to see how many babies like me, who do not fit into a 'normal' box, are aborted," she stated.
Brynard is also, amongst others, an international ambassador for people with Down's Syndrome; and is a national and international motivational speaker who has had over 500 public addresses in New York, Rome, South Africa, Israel, India, Berlin as well as all over the UK. She has appeared on South African national television addressing the state president, was hosted as a guest on many shows like Pasella, Kwêla and "Ontbytsake", and was part of the TV production "Binnelanders".
She received numerous national and international awards on changing social perceptions on people with intellectual challenges, and is currently an assistant teacher at a pre-primary school for pupils with special needs.
Besides that, her awards include the presidential award for people who have made a contribution to the lives of mentally handicapped people in South Africa – first time ever received by a person with a disability; World Down's Syndrome Day award for incredible efforts to change the lives and perceptions of people with Down's Syndrome internationally; and the Shoprite Checkers Woman of the Year category winner for "Young Movers" – first-ever winner with a disability, and first-ever to receive a standing ovation.
She thus encourages those with Down's Syndrome to continue going forward, one day at a time, and one step at a time.
"We are all special, and I thank my heavenly Father that he made me just as I am," she noted.
---