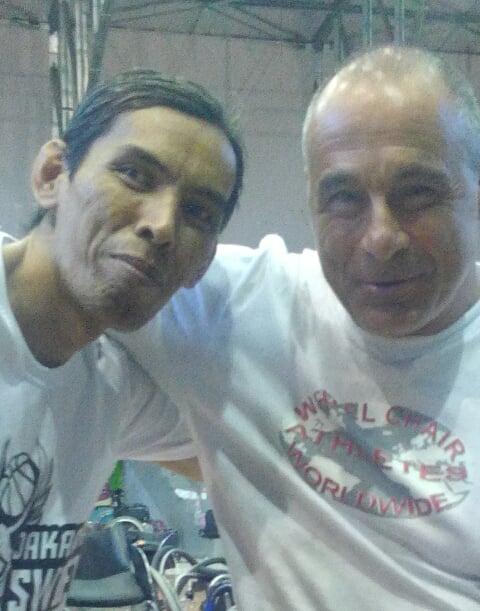 I was born into a very simple family  Honestly, I only realized I was disabled when I started school, and at that time I felt different from other friends.  (I contracted polio when I was one year old).  My parents made me live like a normal person. 
Discrimination started for me when I graduated from school and tried to get a job.  Various rejections often occurred not because I was unable to work but because people saw my physical condition.  I often wrote about my anxiety on Facebook.   A person of Chinese descent, read my writing and asked me to come to see him.  From him I was taught a lot of knowledge.  I learned English, computers, and other skills, so that I could live and work in Bali for two and a half years.   (Stephani Harjono , an Australian teacher taught me English in my first job as a telephone operator).
My journey did not stop there.  I continue to increase my skills through reading, and learning from others. Indonesia is not a country that is friendly to people with disabilities. Laws for the protection of the rights for disabled people exist.  But in practice, for those of us with disabilities, looking for work is like looking for a needle that falls in a haystack
In September 2019 Jakarta Swift, a basketball association held a training, and brought three coaches from America, Mia Hansen, Peter Hughes and Dan Alton. (Thanks to Donald Santoso for making this happen)   With the provision of limited English skills, I shared stories and experiences with them.  We are still communicating.  From them I learned about the meaning of toughness.  Among the limitations that I have, they always say, "Yusuf you have to be tough", when the corona virus outbreak comes, and I lost my job.  The Program gave me new hope.  In wheelchair basketball I found a new world and to keep going in life.  
I tried to contact them, and they said the same thing, that I must be tough. I still feel lucky, when the plague came. I still have a place to talk. Many people with disabilities in Indonesia, are only able to hope for government assistance but who knows when it will come. Even if there is aid that it is uneven.   Having disability in Indonesia seems to be about accepting the conditions of how difficult it is to survive without being able to complain to anyone.
The corona outbreak will end.  But many of us currently live in uncertainty, despair, or maybe frustration has reached its peak.  A few friends and I have tried to do as many things as possible to help our fellow disabled people.  Regardless of my condition and losing my job when the corona outbreak came, I always tried to be enthusiastic.  I continued hoping that we could get through this difficult situation, with or without government assistance.
Many parents who have children with disabilities, do not pay attention to their children's education. I am lucky because I managed to graduate high school.   I finished school at a normal person's school. Ridicule and unwilling treatment just made me become a person who was eager to prove my able self.
I do not want to be viewed differently just because of my physical conditions. Discrimination is our worst enemy.  Sometimes the disability issue is touched when there is an election.  But after that we return to the same situation as marginalized. Maybe this is common in developing countries like Indonesia
From this story that I wrote, I hope that people with disabilities are able to be tough, able to keep learning from this situation, not to give up easily.  Tears of sadness may still flow, but make sure that you have a rock as big as a mountain, and those tears will be like dew which keeps hope growing ...