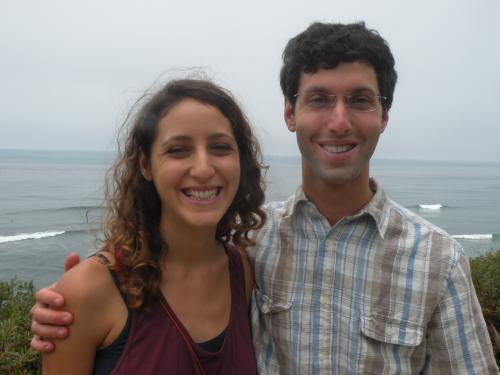 This morning, after quite some time, my daughter Sarah called me on Skype.  Sarah is 24, in college, a budding actor, director, writer, dancer, singer….. We talked about the movie script that she recently wrote and how she has found actors, including herself, to start filming in mid-November.  The movie consists of poetry from both Sarah and my son Daniel and will be full length.  This will be the first; of I'm quite sure, many, from Sarah.  I found her to be exuding confidence as she talked about a kick starter campaign to try and raise funds for the film which my father will also act in. 
My son Daniel is a monk through Self-Realization Fellowship.  Dan is an introspective young man of 28, having entered the ashram, some three years ago.  Although raised in the Jewish faith, even having a bar mitzvah, Dan, Sarah (bat mitzvah) and her husband, my sister and her husband have taken the SRF route.  Dan was "chosen" to be a monk and it is quite an honor as there aren't that many SRF monks or nuns throughout the world.
The thing for me is that, hopefully, like most parents, I'm incredibly proud of the adults that both Sarah and Dan have become.  When one really thinks about it, we don't have long life spans, especially the period from being a youngster, teen into adulthood.  In a short period of time, dealing with the usual adolescent turmoil, including a divorce, both Dan and Sarah have turned out to be incredible, self-sufficient adults. 
Part of this certainly has to do with both their mother and me, providing a decent set of values, which some parts they've integrated into their lives.  But most of their development really has to do with others, whether they be relatives, teachers, friends, whom they've been able to come into contact with through a lot of their own doing.  Some of it, I would also attribute to luck, as there were unavoidable rough times, making mistakes, but also learning. 
The thing that I am most proud of is the fact that they have both turned out to be caring individuals, who will make a difference on this planet, whether through, as in Dan's case, serving, or through Sarah's various forms of entertainment.  Both are already "rich" in life experiences, having traveled throughout the world, not only as tourists but as world citizens.  In sum they are decent human beings.
For those of us who are parents and for those of us aspiring to one day be parents, the best thing that we can do is provide a loving home life, no matter who our children are, no matter what demons we are dealing with.  If somehow we could all find the depths of love that live in our souls and give this to our children we have done something good.  The world might be a different place if this was the case. 
Dan and Sarah represent the possibilities of hope for making the world a better place.  As with all of us they will continue to make mistakes, have triumphs, shed tears of joy and sadness, but the thing that sets them up to be content is their faith and their willingness/finding their own paths.  For Dan and Sarah it isn't about what their parents want, but is about what they need to find inner peace and happiness.  Whether they are "my" children, and I use the term "my" loosely, because we can never own another, or not, they are two remarkable souls, amongst many living on this planet.   The key will be for us as parents, i.e. adults to nurture many other Dan's and Sarah's, so that in the long term the human race will continue as a species.