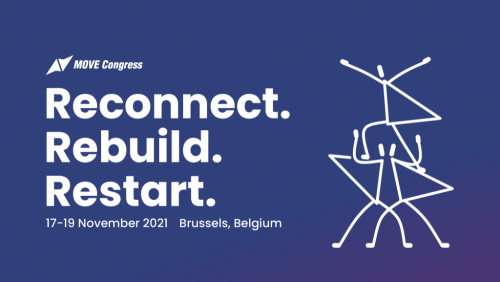 The International Sport and Culture Association (ISCA) invites you to experience one of the world's most dynamic conferences dedicated to sport and physical activity, the MOVE Congress, in Brussels, Belgium from 17-19 November 2021.
WHO physical activity lead Dr Fiona Bull at MOVE Congress closing:
We have to reinvent our system to meet physical activity targets
For the 
MOVE Congress
 2021, we at ISCA prioritised delivering a physical event, because we believe in the power of the physical meeting between people, and we wanted to enable our members and partners to come together to Reconnect, Rebuild and Restart. Some speakers were unable to be there with us in person, so we used our experience in delivering hybrid and online events to bring their expertise to the congress nonetheless. 300 participants, including 60 speakers plus performers, joined us in Brussels to be part of the MOVE Congress from 17-19 November 2021. 
Dr Fiona Bull, Head of the Physical Activity Unit, World Health Organization (WHO) Department of Health Promotion joined us online to deliver a motivational keynote on Friday 19 November.
"It's with great regret I can't be with you in person, as I have thoroughly enjoyed previous opportunities to join the MOVE Congress. But I'm absolutely delighted to be with you and say a few words to set off this final day of the Congress," Dr Bull began, and her speech was followed by a live Q&A with ISCA President Mogens Kirkeby, who asked follow-up questions from the MOVE Congress stage. 
Watch plenary and selected workshop sessions and find photos galleries on our Facebook page
Read more stories from our coverage of the MOVE Congress