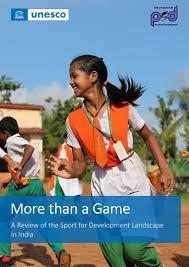 https://unesdoc.unesco.org/ark:/48223/pf0000380571
In August 2021, PSD partnered with UNESCO New Delhi to conduct this research study to understand the current landscape of the sport for development (S4D) sector in India, how S4D programming is enabling the United Nations' 2030 Agenda for Sustainable Development and the scope for S4D programming in the country in the future.
This study complements UNESCO's recently launched global sport-based flagship program, Fit for Life, designed to accelerate recovery post COVID-19 by supporting inclusive and integrated policymaking and enhancing the wellbeing of youth.
The research
This mixed-methods research study incorporated both quantitative and qualitative methods, using secondary and primary data sources. An initial literature review of existing research studies was complimented by a survey targeting S4D organizations across the country, from which we received 48 unique responses, and in-depth interviews with six select organizations.
The findings
The most prominent themes for S4D programs in the country included meaningful youth empowerment and promoting gender equality, followed by enabling education and promoting good health and well-being.
The study also revealed several gaps and challenges within the S4D landscape in India, including a scarcity of funds, policies that promote performance and elite sport over participation, a lack of research and advocacy, minimal support from the corporate sector, an inability to measure the impact of S4D programs effectively, and a lack of qualified trainers.
Recommendations
Based on the data collected and analyzed, the study provides a set of practical recommendations and measures focusing on the pressing needs to be addressed in order to reshape sport and development programming in India.
These recommendations include the need for greater advocacy efforts, prioritizing the need for more in-depth research into the impact of S4D programming, robust assessment and evaluation tools, as well as better alignment of existing S4D initiatives with national policies and schemes.