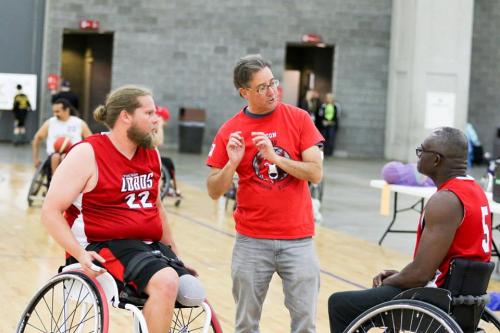 As the Fall approaches in the US sports fans thoughts turn to college and professional football, the baseball world series and the start of the National Basketball Association (NBA).  It is a time of hope and new beginnings.  Being from Los Angeles and no matter where I live in the world I always root for the Dodgers in baseball, the Lakers in basketball and the UCLA football team. 
Bu what I'm really excited about this Fall is being the head coach of the Tucson Lobos D III Wheelchair Basketball Team. My passion for wheelchair basketball began when I lived in India and expanded during the time that I lived in Nepal. I moved back to the US in 2016 to be closer to family but moved to Tucson, Arizona to learn the finer points of wheelchair basketball. Now I get to implement what I've learned throughout my life. 
I feel that basketball is much more than a game, that there are many life lessons to be learned from this sport.  Even at the age of 60 I can still play on a regular basis and have hopefully found a game through the Tucson Parks Department for those 50+.  There is even a Master Basketball Association in the US for those who want to play throughout their entire lives.  Can you imagine these types of sport opportunities for those 50+ in Nepal?  This would create a much healthier society. 
The Tucson Lobos like the Arizona Storm Women's Wheelchair Basketball Team are both under the umbrella of Southern Arizona Adaptive Sports (SAAS) a new non-profit in the Tucson area with a mission to support the community through promotion and provision of fitness, recreation, and competitive sports opportunities for people with disabilities. 
As a new non-profit, there is a need to build numerous partnerships especially when it comes to funding.  I was recently brainstorming with the SAAS Treasurer a list of potential businesses to approach for funding, not only for wheelchair basketball, but also cycling, tennis and other adaptive sports.  We both realized that we have to develop relationships/partnerships with these corporates and that the donations cannot be one way, i.e. SAAS has to be able to offer something in return.
In Nepal, my work in Corporate Social Responsibility (CSR) was a "tough sell".  I didn't find many corporates that understood what it means to have a social consciousness.  I understand that CSR emanates from a corporate's desire to be seen in a positive light so that they can sell more of their products.  However, I never got a real sense of being able to develop an equal partnership whether through corporates or the government.   
In working with corporates in the US one still has to offer something in order to have a true partnership.  As an example, the SAAS Treasurer and I were talking about an automotive shop as a potential sponsor for the Lobos.  We can't really offer this corporate a lot of exposure but what we can do is have our car oil changed or purchase tires or new brakes at this business. In order to get a hospital to provide sponsorship we can ask members of the Lobos to get their medical treatment there.  The question becomes whether these types of activities can work in Nepal, where the population that an NGO might be serving has very limited resources?
Another form of CSR is corporate employee volunteering. From recent observations I know that corporate employees are very interested in volunteering and helping non-profits.  United Way's throughout the US regularly connect corporate volunteer with non-profits through Days of Caring.  But I also know that large companies such as Intuit as well as the local power company, Tucson Electric Power provide incentives for employee volunteering.
Ventures that truly make a societal difference typically have strong partnerships.  This is the case whether in the US or in Nepal.  As I think about the Lobos season and SAAS I know that in order to be successful it will take a variety of partners all working together to do the very best that they can to make a difference.