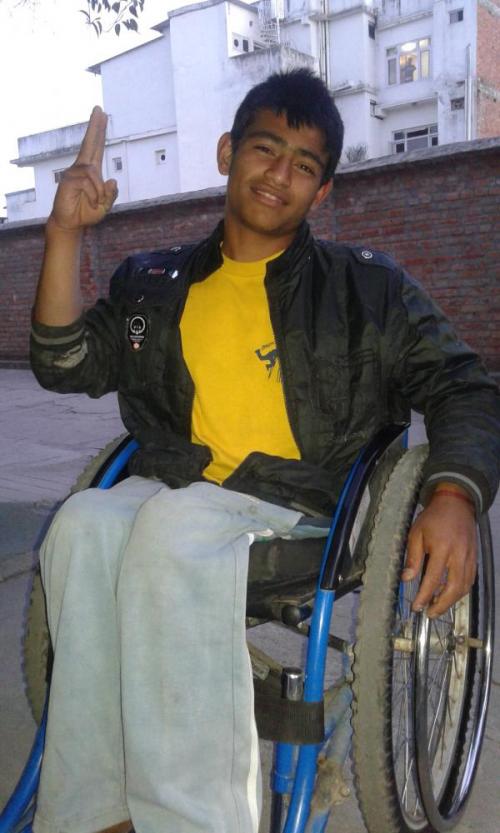 Do you remember Kul? I had written about him few weeks ago. Kul is a player at Jawalakhel Team and I am her 'Coach" or better BIG SISTER, meeting him regularly to chat and discuss life and other important matters.
Now meet Kul's friend Deepak who is also one of the young wheelchair basketball players at Jawalakhel Team: a fun loving and humorous, 15 year old boy, who is studying in class 4.
Deepak is living in St. Xavier Service Center, in a hostel with his some friends like Kul, Beg, and Prem who are also players of the team. There is no doubt that he is one of the best players in the team.
Deepak started playing wheelchair basketball a year ago only and his incredible on the court . He believes that wheelchair basketball has given him the chance to know more people and make new friends, to know about different types of disabilities and to develop physical and mental wellness. He also believes that playing basketball has changed his attitude towards life.
Apart from playing, Deepak loves playing chess and practicing to improve English language with his friends. He is also very good in making artificial fish out of saline water pipe. He has eager to learn new things and develop new skills every time.
He is dreaming of living independent and respected life and he wants to become an active citizen in the society. Despite the fact that spinal cord injury forced him into a wheelchair, Deepak does not stop dreaming.
Can you imagine what his dream is? Opening a coffee shop, preparing coffee and cakes for its customers, taking care of the kitchen in a simple and but comfortable environment.
ENGAGE wants to harness the power of sport to support Deepak and his team members to reach their goals. One day they can even become coaches of Wheelchair Basketball Teams by joining the ENGAGE Corps program
Deepak had to struggle quite a lot in his life but he never ever gave up. His disabilities made him strong and hopefully a future barista.
We are all proud of you Deepak…. And one day we will certainly sip your super latte.
Story credit goes to Rashmi. Thanks Rashmi for bringing the story of Deepak.
Join our conversation on the power of inclusive volunteering at 
www.engagenepal.org.np