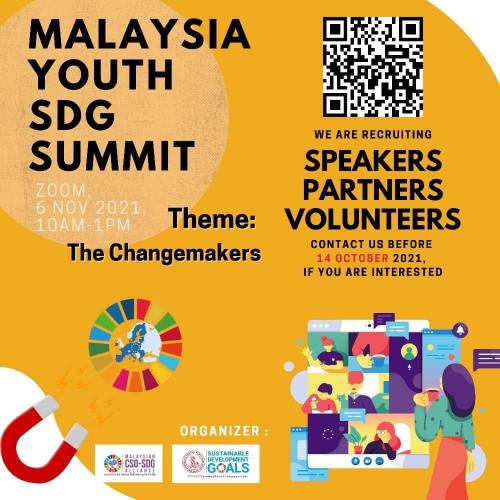 THE MALAYSIA YOUTH SDG SUMMIT 2021 (eyp.asia)
The Malaysia Youth SDG Summit 2021 is a virtual event that will channel you to various keynotes and a panel of inspirational speakers discussing youth-led action for sustainable development. We are proud to have APPGM-SDG and The Malaysia CSO-SDG Alliance hosting this event.
The summit will serve as a valuable platform to
(a) discover a number of novel ways to inspire, mobilize, empower young people to contribute their efforts towards the Global Goals in the Malaysian context and
(b) enable young Malaysian SDG advocates to meet like-minded people and the relevant industry players
The organizers will document all the inspiring insights and thought-provoking ideas or insights discovered during the summit and get these valuable ideas and insights disseminated widely to the national and global civil society for a better implementation of SDG efforts worldwide.