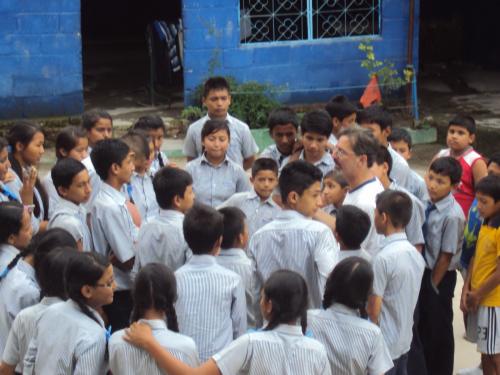 While living in New Delhi from March 2009-February 2012, every Saturday night from 6-7:30 PM, I coached basketball at the YMCA. I had made a connection with the YMCA before I went to India, as I knew that I had to have basketball in my life no matter where I was living.   The Saturday night group was typically between 15-30 people from 8-35 years of age and spending this time with whomever showed up was the equivalent of being on a great date. 
Since being in Nepal, I've met a number of basketball players and coaches, including a Spanish VSO volunteer who used to play in London, play at every opportunity, coached a gay basketball team, that didn't score a point, as part of the first South Asian Gay Sports Tournament, regularly co-coach an Army wheelchair basketball team, promote sports for Persons with Disabilities and conduct clinics for children on "Life Lessons Through Basketball". 
Basketball has had a major impact on my life as expressed through some of my blog writings:
Is it possible to "love" something other than a person so much, that one just cannot wait? This has happened for me in every aspect of the game through basketball. The feeling that I get from basketball is pure joy, nothing less, total focus on the beauty of the game, and therefore when I'm involved, there is nothing else."
"Basketball is more than a game as it requires, as does life, being part of a team, sharing experiences, joy, sorrow, anger, tears, communication, tolerance, discipline and being in good health and eating a nutritious diet. Basketball is a life-style by those who proactively choose to truly take part. Like life, basketball has its ups and downs. We all have been gifted with different skills and as in basketball it is about what we do with those skills and talents that makes life worth living."
"One day, as my body ages, I may have to retire from playing.  I will continue though, to live life as being part of basketball, eating well, exercising, living in community, coaching, etc.  Most likely, I will continue to live basketball until I take my last breath, until I'm again on the court in a younger body.  My love for the game will never cease."
Bill Bradley a former professional player in the National Basketball Association (NBA) and US Senator from New Jersey wrote, The Values of the Game in which he discusses  characteristics vis-à-vis basketball, leading to a  life of fulfillment, i.e. passion, discipline, selflessness, respect, perspective, courage, leadership, responsibility, resilience, and imagination. I take all of these values to heart in how I play basketball and live life.
John Wooden one of the most successful American college basketball coaches  won ten National Collegiate Athletic Association (NCAA) championships in a 12-year period—seven in a row—as head coach at UCLA, an unprecedented feat.  Coach Wooden developed a "Pyramid of Success" which includes 15 building blocks-industriousness, friendship, loyalty, cooperation, enthusiasm, self-control, alertness, initiative, intentness, condition, skill, team spirit, poise, confidence, competitive greatness. 
Wooden defined success as:
"peace of mind which is a direct result of self-satisfaction in knowing you made the effort to become the best of which you are capable." 
No matter what we do in life, the lessons of basketball or for that matter any sport, whether team or individual, is that we must always do our best, while cooperating with others on an equal basis no matter who they are and/or what they might represent.  This is the only way to move forward as a community whether this is where/whom we live with, where we work or attend school.  Life is about how we interact in the world in making a better place for all. While using sports as a guru for a healthy lifestyle and living in the world, anything is possible.