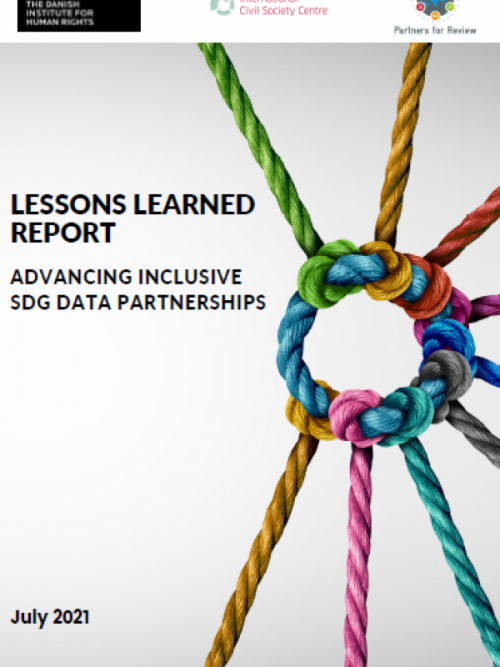 Lessons learned report: Advancing inclusive SDG data partnerships | The Danish Institute for Human Rights
As observed in the first five years of Voluntary National Reviews on the SDGs, most national SDG monitoring and reporting still relies on official data sources only. As such, many elements of the SDG implementation remain obscure.
Addressing the SDG data challenge requires dynamic and inclusive data ecosystems. They shall comprise all relevant stakeholders and work towards filling the information gaps for a fully fledged and data oriented monitoring and reporting culture. These ecosystems must bring together the human rights systems, civil society perspectives, national statistical offices, and other data producers and users. They must create mutual understanding, helping to identify and meet development data needs and opportunities to leave no one behind in SDG implementation.
This report gathers knowledge and recommendations from the Inclusive SDG Data Partnerships initiative. The initiative is co-organised by Partners for Review (P4R/GIZ), the Danish Institute for Human Rights (DIHR), and the International Civil Society Centre (ICSC). The first phase of this initiative took shape in a five month process bringing together key stakeholders from six countries for a series of international peer exchanges, virtual workshops, and coaching sessions.
This initiative's purpose is to advance data partnerships for the SDGs and to strengthen multi actor data ecosystems at the national level. The goal is to meet the SDG dat challenge by improving the use of alternative data sources,  particularly data produced by civil society and human rights institutions, and complementary to official statistics.
This report aims to capture and share the key lessons learned from the first part of the initiative, which took place between October 2020 and March 2021.
We strive to make the pdf versions of our publications etc. accessible for screen readers. If you experience any problems, please contact Digital Editor Stine Juhl Nielsen on stni@humanrights.dk