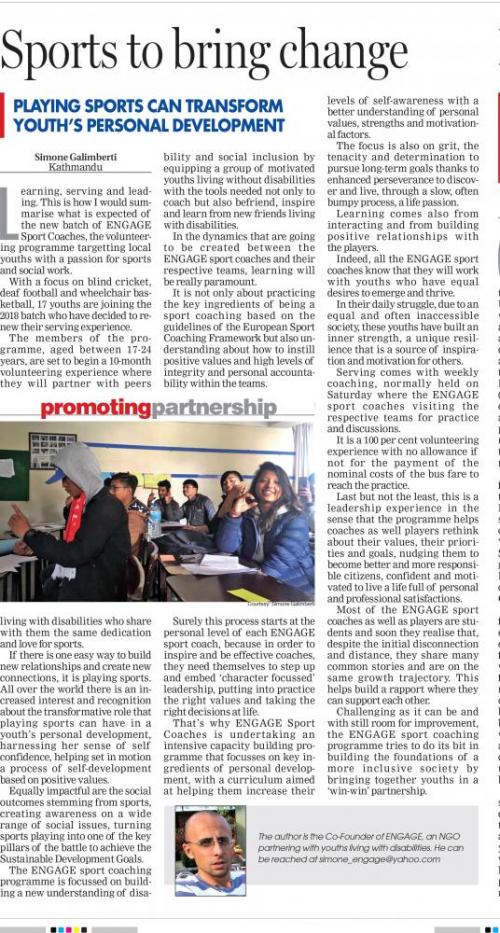 Learning, serving and leading. This how I would summarize what expects the new batch of
ENGAGE Sport Coaches, the volunteering program targeting local youths with a passion for sports and social work.
With a focus on blind cricket, deaf football and wheelchair basketball, 17 youths are joining 4 of the 2018 batch who have decided to renew their serving experience.
The members of the program, aged between 17 to 24 years, are set to begin a ten month volunteering experience where they will partner with peers living with disabilities who share with them the same dedication and love for sports.
If there is one easy way to build new relationships and create new connections, it is sports playing.
All over the world there is an increase interest and recognition about the transformative role that playing sports can have in a youth's personal development, harnessing her sense of self confidence, helping set in motion a process of self-development based on positive values.
Equally impactful are the social outcomes stemming from sports, creating awareness on a wide range of social issues, turning sports playing into one of the key pillars of the battle to achieve the Sustainable Development Goals.
The ENGAGE Sport Coaching program is focused on building a new understanding of disability and social inclusion by equipping a group of motivated youths living without disabilities with the tools needed not only to coach but also befriend, inspire and learn from new friends living with disabilities.
In the dynamics that are going to be created between the ENGAGE Sport Coaches and their respective teams, learning will be really paramount.
It is not only about practicing the key ingredients of being a sport coaching based on the guidelines of the European Sport Coaching Framework but also understanding about how to instill positive values and high levels of integrity and personal accountability within the teams.
Surely this process starts at personal level of each ENGAGE Sport Coach because in order to inspire and be effective coaches, they need themselves to step up and embed "character focused" leadership, putting into practice the right values and taking the right decisions at life.
That's why each ENGAGE Sport Coaches is undertaking an intensive capacity building programn that focuses on key ingredients of personal development, with a curriculum aimed at helping them increase their levels of self-awareness with a better understanding of personal values, strengths and motivational factors.
The focus is also on grit, the tenacity and determination to pursue long term goals thanks to enhanced perseverance to discover and live, through a slow, often bumpy process, a life passion.
Learning comes also from interacting and from building positive relationships with the players.
Indeed, all the ENGAGE Sport Coaches know that they will work with youths who have equal desires to emerge and thrive.
In their daily struggle due to an equal and often inaccessible society, these youths have built an inner strength, a unique resilience that is a source of inspiration and motivation for others.
Serving comes with weekly coaching, normally held on Saturday where the ENGAGE Sport Coaches visiting the respective teams for practice and discussions.
It is a 100% volunteering experience with no allowance if not for the payment of the nominal costs of the bus fare to reach the practice.
Last but not the least, this is a leadership experience in the sense that the program helps coaches as well players to rethink about their values, their priorities and goals, nudging them to become better and more responsible citizens, confident and motivated to live a life full of personal and professional satisfactions.
Most of ENGAGE Sport Coaches as well as players are students and soon they realize that, despite the initial disconnection and distance, they share many common stories and are on the same growth trajectory. This helps build a rapport where they can support each other.
Challenging as it can be and with still room for improvement, the ENGAGE Sport Coaching program tries to do its bit in in building the foundations of a more inclusive society by bringing together youths in a "win-win" partnership.
Disclosure: this piece was originally published on Perspectives of The Himalayan Times on 6th of January, 2018