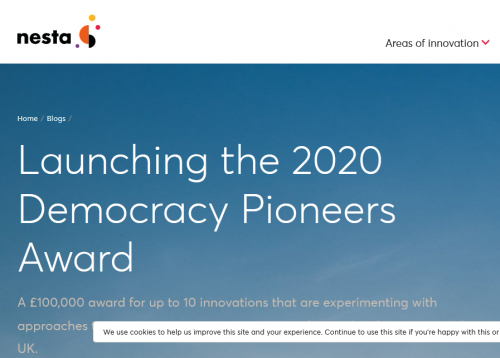 https://www.nesta.org.uk/blog/launching-2020-democracy-pioneers-award/
Nesta launched the Democracy Pioneers Award, seeking out the projects and organisations who are championing civic participation and everyday democracy, and challenging the view of democracy as a 'tick one box every 5 years' exercise.
As the dust settles on the UK's third general election in four years, what comes next? With an acknowledged need to heal the country's divides, recent polls suggest it's a low level of trust in politicians that unites us. Whether you vote left or right, in or out, 44 per cent of people view government as the most broken institution in the UK - with 59 per cent suggesting they are not listened to as citizens*.
Much of our democratic and participatory processes have not kept apace with the rapidly changing reality and expectations of the public. We are limited by decades - if not centuries - of tradition and top down paternalistic design that has defined the engagement of citizens.
While these problems might seem overwhelming, there are reasons to be hopeful. Worldwide, innovations are emerging which are reshaping civic participation and our experience of everyday democracy. This is visible through formal democratic processes such as vTaiwan, a consultation process designed to crowdsource opinions and create large-scale deliberation on complex policy-issues; or Madame Mayor, I have an idea: an online participatory budgeting exercise in Paris, where local residents can campaign and debate how the city budget is spent; as well as informal spheres of everyday life in our communities, such as the Kotti & Co protest in Berlin against the threat of drastic rent increases. Organisations and communities are demonstrating what's possible when we come together to exercise our civic rights.
To celebrate some of the brightest sparks in this field in the UK, we are launching an open call for innovations working in bold and creative ways to improve democracy and civic participation, through a £100,000 award for up to 10 innovations.
Who should apply?
As this is an award, the process is light-touch - we are asking only a few key questions which we hope will help us unearth some great ideas. An independent judging panel will help us select 10 winners who will each receive:
£10,000 to support the development of their work
Opportunities to showcase their work and ideas across a variety of local and national media, as well as Nesta communications
The opportunity to work with Nesta and the other Democracy Pioneers collaboratively to champion this pioneering work, and create a case for what is needed to make democracy fit in the decades to come.
By highlighting these pioneering initiatives Nesta aims to champion emerging innovations that are reshaping democracy and civic participation. Working alongside the Democracy Pioneers, Nesta will also help explore the conditions required to foster a climate of experimentation for the field, the systemic infrastructure and large scale shifts needed to grow this work, and the conditions for a wider movement that will help grow the democracy and civic participation that we need for the coming decades in the UK.
Apply now
If you'd like to be one of the Democracy Pioneers, or know an organisation or project suitable, please read our key documents to ensure you are eligible before you complete and submit your application form.
The deadline for applications is Friday 31st January 2020, at 12 noon. Pioneers will be selected with the advice and expertise of our judging panel and announced in early March 2020. Award activities will progress until October 2020.
For any remaining questions, please contact democracypioneers@nesta.org.uk
We look forward to receiving your applications. Good luck