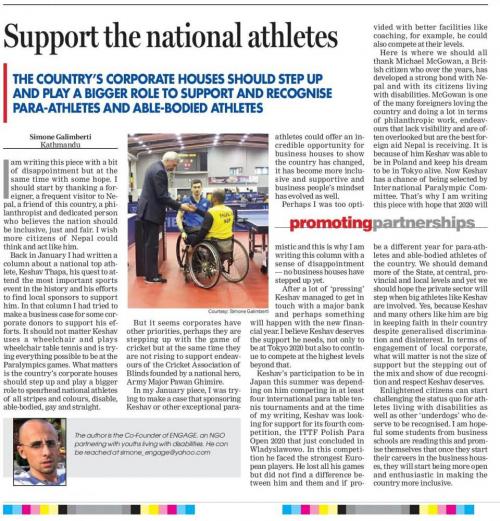 I am writing this piece with a bit of disappointment but at the same time with some hope.
I should start this writing by thanking a foreigner, a frequent visitor to Nepal, a friend of this country, a philanthropist and dedicated person who believe that the nation should be more inclusive, just and fair. I wish many more citizens of Nepal could think and act like him.
Now let me first let me explain a bit what I am talking about.
Back in December I had written a column about a national top athlete, Keshav Thapa and his quest to attend the most important sports event in the history and his efforts to find local sponsors to support him.
Keshav plays table tennis at highest levels and in my column back then I was trying to make the business case for some corporate donors to support his efforts.
It should not matter that Keshav uses a wheelchair and play wheelchair table tennis and he is trying everything possible to be at the Para Olympics games, the Olympics for persons living with disabilities.
What really matters is that the country corporate houses should step up and play a bigger role to spearhead national athletes of all stripes and colors, disable, able bodied, gay and straight as well.
Unfortunately it seems corporates have other priorities, perhaps there are stepping up with the game of cricket but at the same time they are not raising to support the endeavors of the Cricket Association of Blinds founded by a national hero, Army Major Pawan Ghimire.
In my piece back in December I was trying to make a case that sponsoring Keshav or some other exceptional para-athletes of the country could also offer an incredible opportunity for business houses to show that the country has changed, it has become more inclusive and supportive and business people mindset has evolved as well.
Perhaps I was too optimistic and this is why, this time, I am writing with a sense of disappointment this column: no business houses has stepped up yet.
After a lot of "pressing" Keshav managed to get in touch with a major bank and perhaps something will happen with the new financial year but nothing more than that.
Yet if I am in this line of "business", I am not someone easily giving it up and once again I believe that Keshav fully deserves the support he needs not only to be at Tokyo 2020 but also to continue to compete at the highest levels beyond that.
Let me know give a brief update about Keshav's quest to be in Japan this summer: his participation was depending on him competing at least in four international para table tennis tournaments and at the time of my writing, Keshav was looking for support for its fourth competition, the ITTF Polish Para Open 2020 that just concluded in Wladyslawowo.
The good news is that Keshav managed to participate in this competition where he faced the strongest European players.
He lost all his games but very interestingly, Keshav did not find a huge difference between him and them and if provided with better facilities like coaching, for example, he could also become compete at their levels.
Here it is where we should all thank Michael McGowan, a British citizen who along the years, has developed a strong bound with Nepal and with its citizens living with disabilities.
McGowan is one of the many foreigners loving the country and doing a lot in terms of philanthropic work, endeavors that lack visibility and are often overlooked but are the best foreign aid Nepal is receiving.
It is because of him that Keshav was able to be in Poland and keep his dream to be in Tokyo alive.
Now Keshav has a real chance of being selected by the International Para Olympics Committee and we should be all proud of having a national athlete being in the pole position to be in Tokyo.
That's why I am writing this piece with hope and optimism that 2020 will be a different year for para-athletes and able-bodied athletes of the country.
We should always demand more of the State, at central, provincial and local levels and yet we should always hope that the private sector will step up not only when big money are involved but also when big athletes like Keshav are involved.
Yes because Keshav and many others like him are big in all the meanings: they are big in character, they are bit in resilience and endurance and they are big in keeping faith in their country despite generalized discrimination and disinterest.
In his recent trip to Europe, Keshav saw first hands how the private sector is supporting many para-athletes around the world.
In terms of engagement of local corporates: what will matter is not the size of support but the simple stepping out of the mix and show all the due recognition and respect that Keshav deserves.
Now only enlightened citizens can start challenge the status quo for athletes living with disabilities as well as other "underdogs" who deserve to be seen, recognized and acknowledged.
I am hopeful that some students from business schools are reading this and promise themselves that once they will be starting their careers in the most important business houses of the country, they will start being more open, more enthusiastic in making the country more inclusive. I am really hopeful that this will happen sooner than later.
Meanwhile stay tuned on the Keshav's quest for Tokyo 2020.