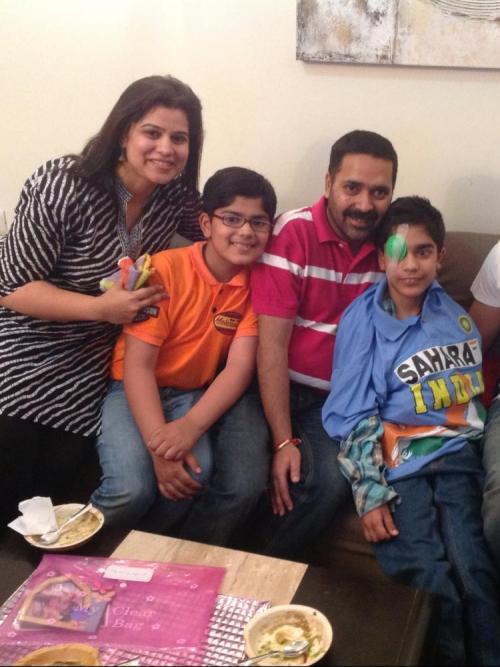 "Mama,a few days back a stranger stopped and said to bhaiya (his helper) 'Isko uss patri par chhod ana tha jahan rawan jalaya tha' (you should have left him on the train tracks) " said Kavish, my 18 year old son who has severe spastic quadriplegia and uses a wheelchair. When I asked him why he didn't tell this to me the same day he said, "Mujhe laga aap udaas ho jaoge"
This was a conversation we had over dinner one night. I could feel so much pain and anger accumulating inside me as I heard him speak but at the same time I kept wondering how it would have affected him as he listens to news every day and was well aware about the 'Dusshera mishappening' in our city which had killed hundreds .
Then I went on to tell him about human rights and how every citizen of India has a right to live with dignity and anyone who tries to assault you on the basis of your disability can be punished by law. Small incidents like these reminds me to make him aware about his rights, to help him become a self advocate.
Then he went on to describe another incident when a lady stopped by and told his bhaiya that he must be put in a special school. On hearing this I said, "Kavish, why didn't you tell her that you study in the best mainstream school?" He replied, "I kept saying  that I am in grade 7, but she did not pay attention." Then bhaiya told her that I was already going to a mainstream school to which she replied 'Aise bache normal school nahi jate(children like these don't study in normal schools)'"
Small incidents like these hurt my little boy as he goes for his walk with his bhaiya every day (in his wheelchair) which shows our society's pre- conceived negative notions about people with disabilities. How I would love to give these people a piece of my mind and thousand others but I guess he has to learn to fight his own battles. This is the reason I have been empowering him with confidence and 'you are no less' attitude. This has to some extent made him 'fearless'. Even in a class of 40 students he makes sure to express himself and put forward his point of view despite having slurred speech. Having this attitude the teacher has to involve him in any kind of discussion going on in the class. Getting an appropriate day to day feedback from him inspires me to do what is right for him and rest of the students with special needs I teach.
Setbacks and misfortunes can leave anyone scarred for life but not Kavish, he has always been a fighter.
Till the time he saw his thirteenth birthday he had already undergone 12 years of multimodal intensive occupational and physiotherapies, had very high myopia and got operated on his left eye for retina detachment , 120 sessions of hyperbearic oxygen therapy under high pressure at Apollo hospital, 120 sessions of acute acupuncture, 6 months of Kerala ayurveda treatment and lots more which I can't even remember. Most of these were extremely painful for him.
In April 2011 we had taken him for NDT therapy to Mumbai, strongly recommended by many therapists who were working with Kavish. I remember that as the most humiliating experiences of my life. The therapist had lots of student trainees working with her. When she used to give therapy to Kavish all used to gather around him, they used to remove all his clothes ( Kavish was 11 years) and would ask him to perform an action, e.g. hold a pen with one of his hands .Now this is not easy for a child like Kavish but he used to try his best . But after all his effort she used to shout, "This is the way it should NOT be done. He is doing it because he has been undergoing wrong kind of therapy over all these years. He has learned all wrong ways of doing it. So we need to put in double effort to teach him the right way." She used to scream at him which made Kavish also scream with anger and pain. Imagine someone telling you that for last 10 years all your efforts, time and hard work has not only got wasted but also made your condition worse. She did not allow parents inside and I used to sit outside every day staring through the glass door with tears in my eyes, looking at my son shouting and crying. My heart wanted to just grab him and run away from that hell and never come back but my mind would tell me to have patience as this might do good to him. But after a month I could not find any improvement and was planning to return. Little did I know that another setback was waiting for me.
The therapist doubted that Kavish's left hip might be dislocated and made a referral to the best orthopaedic doctor in Mumbai. After the scan I remember the doctor said, "He needs surgery but it is not going to bring about any change in his present condition so don't expect anything. We don't even know how old this dislocation is and because the dislocation has been caused by the spasticity, it might reoccur after a few years." I was just not ready for this so we decided against surgery as the doctor further told us that if it was left untreated after a few years it might become painful so then anyhow we would have to get it done. so 'why now then?' (Kavish was not in pain at that time). We bought him back and decided against it. But one thought kept disturbing me and that was when there was not a single day in these 10 years that Kavish did not get his sessions of  intensive therapy and that too by some of the best occupational therapists how come no one could diagnose or prevent this dislocation?.
In January 2013 during a regular eye check-up Kavish was diagnosed with right eye retinal detachment. "How could this happen?" I had been taking him for regular eye checkups twice a year to Delhi after his left eye surgery (that too was for retinal detachment). I was devastated as the doctor had told me that his right eye will always be his good eye.
Anyhow it was an emergency so we rushed to Delhi again. After his checkup the doctor told me that the chances of recovering the eye sight was very less as the detachment was worse than before. We had no choice but to take a chance as otherwise the sight would be gone forever. The surgery lasted for 6 hours. The challenge I knew was post surgery when we had to position him head down for 20 hours a day for three months. I remember how hard it was as we had already gone through it.
 During a post surgery follow check up trip to Delhi as Kavish's helper was trying to lift him up, he grabbed him with one of his arms with a jerk and Kavish screamed and we knew something bad had happened. We returned and took him to a doctor.  After the scan the doctor said that Kavish has a fracture in his left shoulder and there is also a cyst which needs to be removed with surgery. I could not take this and it might sound strange but I refused straight away. I said, "How can we do it, he has just got operated on his eye and besides that he needs to be positioned for 20 hours a day. We can't do it so soon." Thank God with a second opinion it was not needed, though the fracture would take time to heal.   
 Incidents like these one after the other can leave one in severe depression but not with a bubbly, energetic cricketer who is so full of life. 
I clearly remember the day when my younger son Ruhaan gave me the news that he had been selected to the school lawn tennis team. Little did I know what was going inside Kavish's little head.
 A few days later our school's cricket coach came up to me and said,      "Ma'am your son has such passion for the game I really don't know how to deal with him. "He went on to explain how Kavish had expressed his desire to be on the school's cricket team . To which the coach replied" Abhi aap bahut chote ho" Kavish said" But mera bhai to grade 6 mein hain aur wo to select ho gaya hai (my brother is in grade 6 and he has got selected)" so sir said" thik hain tu mehnat karega to tujhe bhi next year le lenge( if you work hard we will select you too next year)"
So one fine day Kavish came back from school with a phone number in his diary and declared," This is the number of my school's cricket coach. He has an academy near Gandhi ground. I want to join that academy". I didn't know how to react, all I could say was 'ok'. Thank God I convinced him to join another one closer to my house. Till date he goes there with his own bat and ball and plays with his bhaiya on their ground. The coach there is kind enough to cheer him up through pep talks and he comes back home satisfied and happy.
Anyhow on another day coach told me that one day he observed Kavish playing cricket with his bhaiya on the school ground.  It was extremely hot and sunny that day so he went up to Kavish and suggested that he must play in the shade or else he would fall sick. Kavish replied" Sab cricketers ko aise hi dhup mein mehnat karni padti hai (all cricketers need to work hard like this)."
I feel cricket has given meaning to his life. Besides studying, he watches cricket all day after coming back from school. Once he heard the news of a cricketer who died due to a ball injury. This news affected him deeply and he refused to celebrate his birthday that year and wished to send all his savings to his family.
In December 2016 the pain in his dislocated hip started and got so severe that he could no longer sit in his wheelchair or anywhere. Lying down in a particular position gave him relief. Again visits to different orthopaedic doctors started. The dilemma was that more than half of them were against surgery as they believed that the pain was not due to dislocation. Some said this might be congenital. But nothing made it go away. Painkillers and patches were prescribed. It was such a difficult time because Kavish was in constant pain all day and night. Nights were the most difficult.  There were times when I used to sit and talk with him throughout the night looking at the clock for six hours before I could give him another painkiller.  He had become scared of nights as he found it very hard to sleep. Some days I felt I just couldn't go on like this, other days I was filled with positive energy.
I kept him at home, didn't send him to school for a month as I thought the pain would become better but it did not. Kavish was getting depressed because he couldn't move out of the house. He laid all day watching cricket, lost interest in is studies, and thought things would never be the same. I just couldn't see him like this. I had to take him back to school as it would make us both feel normal.
I tried different cushioned chairs and found one where he could sit for ½ hour at a stretch. This was enough for me. So I placed it in his classroom; he used to attend one period in class then lie down in my office, then again I would send him back to class and so on. Though there were many days he couldn't sit or because of pain he was scared to sit at all so he just went and came back but we didn't stop. We didn't give up. Though at times I did wonder how long can we keep doing this?
There were times when aKish used to ask me in the mornings, "mama , how can we go to school? We didn't sleep at all last night. " I remember telling him, " Forget about the night. Look it is such a beautiful day". We used to talk about plans for the day. I had to go on, I didn't have a choice no matter how hard it was. I did not talk much about the problems neither did I let Kavish or my husband talk about it because I felt the more we talked, the more we felt , so we prayed a lot . Every night before going to bed we meditated and prayed.
Finally in August 2017 we took him to AIIMS and on the advice of the doctor there decided to have an operation. I remember the doctor telling us" Isse worse kya ho sakta hai? Surgery should bring him relief. We all know he can't walk all his life so what are we trying to save? If a body part is giving him so much pain it is better to get rid of it."
We got him operated in September 2017. Surgery did give him relief.
Life got back to normal. He started getting his teenage crushes. What amazes me is that Kavish does not watch TV at all besides cricket. He does not have a peer group, in fact he does not have that kind of exposure that a boy his age would have but I guess there is a natural way of things to happen so it did happen with him. He would be so full of energy some days, smile when alone, other days he would be so sad, not eat, stopped watching cricket. He has also become aggressive thanks to his hormonal changes, he fights with me almost every day.
But I thank God that he is happy. He realizes problems around him and has started to take responsibility too. Once I remember his helper was planning to take leave and Kavish dreaded being at home all day as no bhaiya meant no going out. So one day he went out in his wheelchair and started asking every passerby, " Ae bhaiya aap mere liye kaam karoge? Main apko das hazar rupaye doonga. Theek lage to kal se aa jana.(excuse me, will you work for me. I will give you 10,000 as salary. If ok then start from tomorrow)"
He used to come home and tell us about it and we all had a good laugh. He is so cheerful and tries to make everyone laugh around him.  Once a relative came to visit us and asked Kavish" Aap mere dost banoge? (Will you be my friend?) " Kavish said" Dost to mere bahut hain . Aap mere dushman banoge?(I have many friends. Will you become my enemy?)" and then laughed his heart out.
Our life is so empty without him. Though he realizes his limitations but is happy with his body and his ways as he was born with it so he does not know any other way, which I feel is good. Life for him is normal.
He dreams of becoming a cricketer one day and no one can take that away from him. Once someone asked him, "What is your ambition in life? Kavish said" To become a cricketer."
"And how do you plan to achieve that?"
"By practicing every day." And he is doing exactly that.
So if you think life is hard for you, you need to take inspiration from my little cricketer who inspires me each day and above all has taught me ….
……..GRATITUDE.