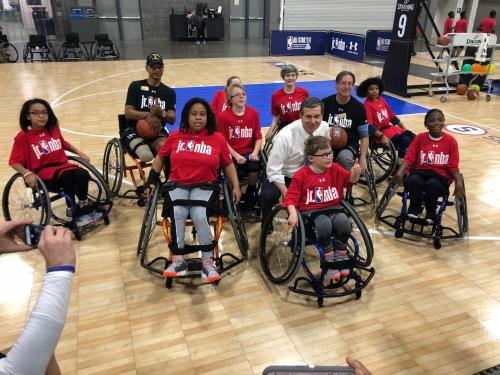 At 4.15 PM on January 31, 2019, I hung up the phone after participating in a conference call with Sheley Reister and Mobolagi Akiode from the NBA. The BIIS Sports PRIDE youth wheelchair basketball athletes had been invited to participate in a Jr. NBA wheelchair basketball clinic on February 15 which we organized, as part of the 2019 NBA All-Star game weekend. Another clinic would be added for 16 youth with more severe disabilities from the Charlotte-Mecklenburg school district.
The first possibility of this taking place occurred in July 2018 when Justin Trujillo of the Greensboro Swarm provided me with an NBA contact to start talking about the All-Star Game. I thought that it was important to have wheelchair basketball as part of the weekend, as nothing else was being planned for athletes with a disability. Long before 2018 though, the real seeds of this connection with the NBA were planted just before I moved to India in March 2009.
Prior to becoming a VSO (Voluntary Service Overseas) volunteer in 2009 I had to find basketball for myself in India. I am addicted (let's say I'm passionate) to the game. It's not that I can't live without it, but I love to play, watch, coach and talk basketball. If I could this is what I would do 24 hours/day.
When I knew that I was going to be living in New Delhi, I started searching online for local basketball opportunities, which led me to the YMCA. I sent the Y an email in February 2009 saying that I wanted to coach. I might have received one email back but as soon as I arrived in New Delhi, I went down to the YMCA. I asked to coach and also to find out if they had any NBA contacts. I can't remember why I asked about the NBA. Maybe this had to do with knowing that the NBA had started a program in China in 2008.
I started to coach every Saturday night at the Delhi YMCA and wrote this blog about how I first became connected with the NBA.
Stranger Than Fiction the NBA 12/5/09
As some of you know given my passion for basketball, I had contacted the NBA, earlier this year. I've been e-mailing a number of times with a guy named Brooks Meek, Senior Director, Basketball Operations - International, and found out that the NBA is going to be doing more in India. I most recently e-mailed Brooks last week.
Tonight as I usually do on Saturdays, I was coaching b-ball with a group of 28 Indian children at the Delhi YMCA. About the last 15 minutes or so, I noticed that there were two light-skinned guys watching the action on the far end of the court. One guy was particularly tall. 
I ended my coaching session and walked over to the guys to introduce myself. Lo and behold one of the guys was Brooks! Imagine how astonished I was. Brooks told me that he hadn't had time to write to me, but was in Delhi with the tall dude, to meet with the India Basketball Federation (IBF) about ramping things up here. He told me that Heidi Uberroth, who is President of NBA International, and the daughter of Peter Uberroth, former baseball commissioner and head of the US Olympic Committee, was going to be in Delhi on Monday to meet with the IBF. (I am going to Chandigarh on Sunday, so won't have any time to further meet with anyone, but nobody asked anyway). Brooks is going to Chennai on Thursday with Dikembe Mutombo to do some NBA things in that city. He will also be meeting with my contact at the Y, Rajiv Singh on Monday.
Is there a future for me with the NBA? Who really knows, but I do know that magic happens in India. (Brooks told me that once they hire someone, a 20-year coach, that this person will contact me). One just has to open their heart and mind to the possibilities."
A few months later, I had the privilege of meeting Troy Justice, who had recently been hired to be the NBA's Director of Basketball Operations in India.
The NBA comes to India (and the YMCA) 3/27/10
Last night, right before I started coaching, Troy Justice, the new Director of Basketball Operations in India, came up and said hello. (Troy is a former athletic director as well as the former coach for Athletes in Action.) As you can imagine when I saw him approaching me, I knew that it was Troy, as we had become Facebook friends. Troy, with a huge smile, shook my hand and gave me an official NBA cap. We talked for a few minutes and then I started coaching, a bit nervous with Troy there. Troy stayed until 7 PM, talking with a local coach, the person that I coach Saturday nights with and the father of one of the children who at 11 years old is 5'11", a young girl. Before Troy left he came out onto the court and said hello to all of the children and told them that he would come back to do some drills. Troy is off to Mumbai as the NBA is starting a new league in a select number of cities. 
After Troy left and I was talking to the children, I told them how excited I was and how excited they might be, on the ground floor of the NBA coming to India. Last week I had told the children that the NBA is coming and this week they actually saw it. The magic of India continues for me and I feel chills throughout my body as I write this.
In November 2011 I worked on an international wheelchair basketball project with Wheelchair Athletes Worldwide, again coming into contact with the NBA.
Wheelchair Basketball (12/18/11)
On Wednesday of that week, my friend Troy Justice of the NBA had said that he would reintroduce me to Kenny Natt, coach of the Indian Men's National Basketball team and give him a personal invitation to wheelchair basketball. I thought why not. Kenny was very gracious and said that he would try to come. Kenny's assistant Karan called me to say that Kenny was interested if it could fit into his schedule. 
Sure enough Kenny did want to come and on Saturday morning, thanks to Karan, Kenny was there. Kenny is a big man, a former professional player and coach in the US. I had previously met him at some Asian preliminary qualifying games. He is very affable, but serious about the work that he is doing in India. I was so happy to see him and he was so happy to participate with the children. We put Kenny in a wheelchair and he seemed to really love it as indicated by the huge grin on his face. Kenny was also very happy to meet Uma Thuli, the school principal and he ended up staying for about 1.5 hours. My good friend Shekhar also came on Saturday, which made things even more special. We got Shekhar into a wheelchair and I think that he came away with a greater appreciation for persons with disability. For me, this was all a dream come true, but as I've come to find out anything is possible in my India.
I left India in February 2012 and went on to live in Nepal from June 2012 through August 2016. Eventually I made my way back to the US. In the interim, I had little, if any contact with the NBA until the summer of 2018.
When I found out that the NBA All-Star game would be in Charlotte, I immediately thought that wheelchair basketball should be part of this. I was able to determine that in the past there was an All-Star connection between the National Wheelchair Basketball Association (NWBA) and the NBA but now I wasn't sure.
During the Summer of 2018 having been in my job with Bridge II Sports since March 1, I had the opportunity to become more involved with wheelchair basketball, a pursuit I had been cultivating since my time in India.
At BIIS we have an annual wheelchair basketball fundraising event, August Madness, in which we recruit businesses to sponsor a team and play at PNC arena in Raleigh. Part of this event is an auction. I was tasked with not only being the "Commissioner" and announcing the games but also working with colleges and the Charlotte Hornets G League team, the Greensboro Swarm, to obtain auction items.
I spoke a number of times with the Manager of Communications, Justin Trujillo, who donated an auction item, which I later won (this included a Dwight Howard bobble-head from when he was with the Hornets.  At the August Madness auction I was kidding Phil Ford, a former UNC standout, who also had an eight year career in the NBA, about bidding on the package with the bobble-head, but he didn't bite).
I asked Justin if he was involved with planning for the All-Star game and he told me that this was done at the corporate level. Justin put me in contact with Michael Perrelli of Media Operations & International Communications who put me in contact with Erin Logan. Erin and I had a phone conversation on August 1 as I told her about Bridge II Sports. She indicated that All-Star planning wouldn't begin for a number of months. Erin ended up leaving the NBA in October and introduced me to Sheley Reister.
I was going to be in New York City to visit relatives during Veteran's Day weekend and asked Sheley if she was able to meet. I also wanted to see Troy who was now in New York as the Senior Director of Basketball Operations-International and Associate VP for the NBA.
As it turns out, Sheley's parents live in the Raleigh-Durham area. On November 5, I was at a meeting of the Durham Sports Council and one of the attendees started talking about a new sports magazine, Triangle Sports, and mentioned that the publisher's name was John Reister and that he had a daughter that worked for the NBA. This timing made me feel that something good would come of my meeting with Sheley. (Triangle Sports will have an article about BIIS in their Spring 2019 issue, which I helped to facilitate).
On November 12, I met with Sheley and then spent half an hour with Troy who I hadn't seen since India, about six years prior. It was really lovely to see Troy after such a long time.  There was still more work to be done as I wasn't aware of  a concrete plan for wheelchair basketball during All-Star weekend.
I kept gently pushing through emails and phone conversations and finally the All-Star connection happened!
On the morning of February 15, two colleagues, Jon Youngblood and Brad Rosell, and I met at Jon's home at 5.30 AM to make the trip to Charlotte. Jon drove the new BIIS truck which pulled a trailer filled with 24 sports wheelchairs. We arrived at the Charlotte Convention Center around 8.30 AM and with the help of a number of NBA employees unloaded everything onto Court 9 where we would be conducting wheelchair basketball.
At 9.30 AM the first Junior NBA program began with 500 children from the Charlotte school system. Children from the Metro School in Charlotte, who we would be working with in the first session, came onto the court. These children all have cognitive disability with many of them also having a physical disability. Along with teachers and aides from Metro we set up boccia, blew up some balloons, and played catch with the children.
When I had initial conversations with the NBA, I'm not sure that they really knew the condition of these students and asked me to include them in the wheelchair basketball clinic. A few days later they asked if I could be run a separate clinic for these students, which I agreed to. I decided to call the principal and from our conversation realized that these students were more severe and couldn't sit in sports wheelchairs. 
At Bridge II Sports we abide by the statement of finding a sport for EveryBODY and I took this to heart in helping to ensure that the students from Metro could also spend time on the court.
Every session started with a pep rally of NBA and WNBA current and former players. The first session started with Swin Cash, one of the former stars of UCONN women's basketball, and who played professionally in the WNBA for the Detroit Shock, New York Liberty, and Seattle Storm. Others included Dikembe Mutombo, who had a long NBA career with Atlanta, Denver, and Houston, and who has been part of Basketball without Borders as well as an advocate for starting a professional basketball league in Africa (which is starting in 2020). Festus Ezeli, who played for the Warriors, was also there. Knowing that Jillian Wiedner, a PRIDE member, and her mother Heather were going to spend Thursday night in Charlotte I asked them to come to the morning session to help out. This was very fortuitous as Swin Cash spent most of the session talking and rolling with Jillian. This real caring on the part of Swin was so awesome to witness—I'm sure that Jillian will remember this her entire life.
At the start of the second session I was upstairs as some of the PRIDE athletes and their families were starting to arrive. Under Armour is the major sponsor of Jr. NBA and every child, approximately 1500, was given a pair of shoes, t-shirts, socks, and shorts. Pretty amazing donation considering that the shoes that I was given list for $140. I brought our athletes and their parents to the table where they could pick up this "swag" and all were incredibly happy. Unfortunately, we missed the second session pep rally which included Steph and Seth Curry, Blake Griffin, Glen Rice, Kristi Tolliver, and Kemba Walker.
One of our new team members, Jaden Green, and his dad Jay are huge basketball fans. Although Jaden is only 11 he knows everybody in the NBA. Jay and Jaden walked and rolled over to where Steph Curry was doing his clinic. Although Steph was very focused on the children in his clinic, Jaden and Jay were able to get Steph's attention. When he saw Jaden he stopped what he was doing and shook hands with him.
Olivia, Jaden's younger sister, another new PRIDE team member also wanted a photo with Steph.
As the second session ended Glen Rice, a Laker for one plus season, came over and started talking to us. I asked him about his season with the Lakers in which Kobe and Shaq were at odds. Glen was very open about how difficult this was for him. I remember when Glen played and always thought that he wasn't very happy with the Lakers.
The third session was the one in which seven members of the PRIDE would be really participating by playing wheelchair basketball. This session included Dennis Smith Jr. of the Knicks, Joel Embiid of the 76ers, Dirk Nowitski of the Mavericks (most likely retiring at the end of this season), Kawhi Leonard of the Raptors (one of the top five players in the NBA), and Hamidou Diallo, of the Thunder who went on to win the slam dunk contest over Dennis Smith Jr. by jumping over Shaquille O'Neal. (Mitch Kupchak, General Manager of the Hornets and Mark Tatum, NBA Deputy Commissioner also said a few words). 
I had the PRIDE team members break up into two groups: one for the beginners and another that played 3 on 3 with Brad and I also playing. I finally decided that we should all play together on the #9 half court which the NBA had given us.  
None of the All-stars were on our court and I looked over at the parents who looked as if they were thinking, why did I drive so far if none of the All-stars were not going to play with the PRIDE. I rolled over to Laura Parks, mother of PRIDE members Aubrey and Carson, who is very assertive and I said, "Laura, please bring some All-stars over." Dennis Smith Jr. recently traded to the Knicks, came over with one of his friends. Theo Ratliff, a former NBA player at 6'10", also came over. Putting him into a sports wheelchair was interesting.
Dennis is a lovely young man. I talked to him about having two former University of Arizona team members, Alonzo Trier and Kadeem Allen, on the Knicks. (I had seen both of them play when I was living in Tucson during 2017. When I was at the Knicks-Magic game in November while visiting family in New York, our seats were close enough to the court that I screamed at Trier to look at me for a photo. Allen wasn't on the Knicks at this time.) I also talked to Dennis about getting the number one draft pick in June which would surely be Zion Williamson from Duke. Although Dennis went to NC State, he didn't seem to mind the fact that Zion went to Duke, only wanting to get the best player available. (This is a video of Dennis Smith, Jr. which includes a bit when he played with the PRIDE.)
Dennis spent at least 20 minutes with the PRIDE team members, and seemed to really enjoy playing in a sports wheelchair.
North Carolina Governor Roy Cooper also stopped by. I rolled up to him and said we were from Bridge II Sports. He immediately recognized this as he spoke at our Valor Games Southeast 2018. We gave Governor Cooper an official PRIDE t-shirt.
Since we now had all of these celebrities on Court 9 the press was in abundance.
Ashley Battle, a former member of the UCONN Huskies and WNBA alumni, also spent some time with us.  I spoke with Ashley and Swin about the lack of support for women's basketball.  Why people don't support the women's game as much as the men's I really don't know and neither did they.
At around 4 PM Brad, Jon, and I, with truck and trailer fully loaded, pulled out of the Convention Center with me driving. After about an hour we stopped for dinner. Around 8 PM we pulled into Bridge II Sports and then headed to Jon's home to collect our cars.
Although a long day, we all felt a sense of PRIDE for having made this opportunity possible for the PRIDE team members and their families. This was a day that none of us would ever forget.
Who knows where this will lead but I was immediately thinking about the seeds that were planted and how we would work on more collaborations to further wheelchair basketball and adapted sports.
Be Kind; Always do the Right Thing
This version has all of my photos: https://michaelrosenkrantz.blogspot.com/2019/02/journey-to-nba-all-star-...