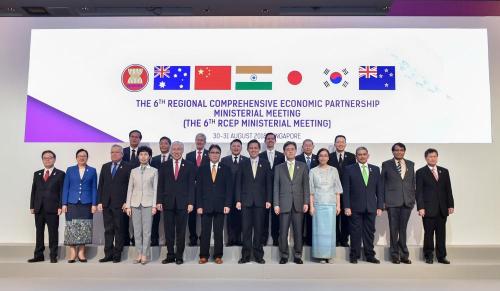 http://asean.org/joint-media-statement-sixth-regional-comprehensive-econ...
1. The Ministers from the 16 RCEP Participating Countries (RPCs) attended the 6th RCEP Ministerial Meeting held on 30-31 August 2018 in Singapore. In addition to assessing the developments since the 5th RCEP Intersessional Ministerial Meeting on 1 July 2018 in Tokyo, Japan, including the outcomes of the 23rd round of negotiations held on 17-27 July 2018 in Bangkok, Thailand, the Ministers also provided guidance on specific issues elevated by the Trade Negotiating Committee and exchanged views on the next steps toward the conclusion of negotiations.
2. The Ministers welcomed the conclusion of two additional chapters at the 23rd round of negotiations, namely the Chapters on Customs Procedures and Trade Facilitation and Government Procurement, bringing the total concluded chapters to date to four. The Ministers noted with appreciation the good traction made in the negotiations of other chapters, with some now nearing conclusion.
3. The Ministers adopted a Package of Year-End Deliverables developed by the Trade Negotiating Committee, and welcomed the plans to achieve the targets set out in the Package. The Ministers tasked negotiators to leverage on the positive momentum to expeditiously bring negotiations to a mutually beneficial and fair conclusion. To this end, the Ministers instructed negotiators to exert utmost efforts to achieve each of the targets in the Package by the end of this year. The Ministers expressed the hope that completion of the Package would signify the substantial conclusion of the RCEP negotiations this year.
4. The Ministers looked forward to the next update from the negotiators before the year-end. The Ministers agreed to keep the lines of communication open and stand ready to provide prompt guidance and support to the negotiations, including through intensified domestic consultations, so as to achieve the targets set out in the Package.
5. The Ministers underscored the significance of establishing the world's largest free trade-area among 16 diverse participating countries under RCEP amidst the escalating trade frictions, and took it as a collective responsibility to uphold a global trade environment that is open, rules-based, and inclusive. To this end, the Ministers reaffirmed the commitment to see RCEP through its conclusion and achieve a comprehensive, high-quality and mutually beneficial economic partnership agreement, notwithstanding rising uncertainties in the global trade environment.