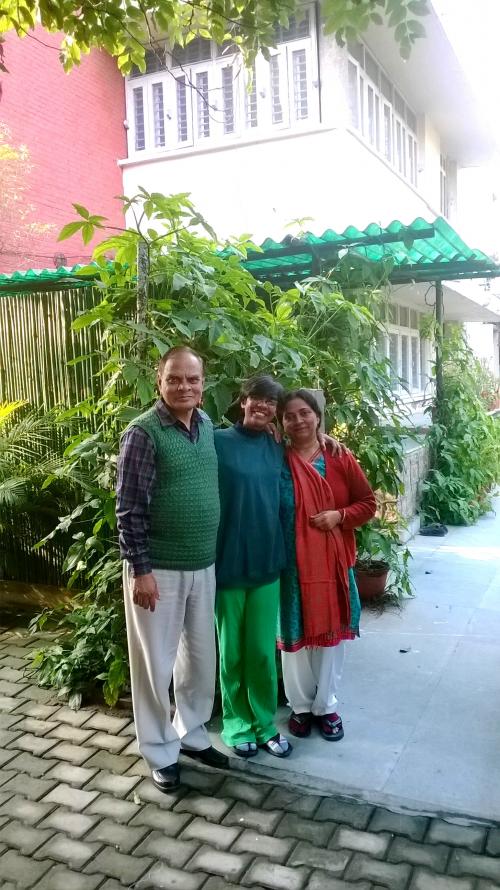 C-II/ 39, Tilak Lane. It is not a mere address for me; it has been my home for over nine years. The home that I would be leaving within a week. What is new, some of you may ask me, about leaving a house and  shifting into another? People do it all the time. Yes, perhaps, but for me it is a little different. Owing to my father's transferable job, we had never stayed in a house for more than two years. A rather gypsy  kind of a life I must say.
I have changed numerous houses over the last 25 years . Whenever we shifted to a new house, be it in Agra, Lucknow, NOIDA or Delhi , I knew that our time in the house was  finite. The relationship that I would have with the house would have a definite shelf life and would run its course within 2-3 years when my father got transferred to another city and we'd move again. When people talked about "their" house with pride, joy and sometimes "nostalgia, I would find it difficult to relate to any of those feelings perhaps because I never had enough time to develop a relationship with any of the houses I stayed in.  I also saw no point in creating strong memories of the house I lived in.. Of course there were birthday parties, sleep-overs with friends and visits by family members making our time special However, since I never had too many friends at any point of time and the activities of one house were repeated in other houses that I stayed in, it never really bothered me that I  was constantly on the move every  two to three years.
Years back, when I met two amazing people and forged a friendship of a life time with them, the moving had a profound impact on me. Not because I was moving houses yet again but after many years I had two people whom I can call friends and barely six months into knowing them, I am being dislocated with bare minimum contact with them in the future ( It was the pre- cell phone era and I still did not have a computer at home). The house, even at that point of time held no importance to me.
Things changed in 2005 when my father got transferred to Delhi. Over the next nine years, either my father got transferred within Delhi or even if  he was posted outside, the house was retained owing to the fact that either the "children" were working in Delhi or were in senior high school. Shifting houses would have meant disrupting the schedule and the rhyme. So we stayed put.
 A house for me had always been a structure of bricks, cement and mortar. A necessary material possession. Something that was not significant to the essential "non- materialistic" school of thought that I believed in. I do not know how and when the bricks and mortar structure developed a personality of its own for me.  Rooms ceased to remain just rooms, they became repositories of memories; happy, sad and nostalgic.  C-II/ 39, saw my father getting promoted to the highest administrative office in a State and then holding a Constitutional post. My sister started her new journey as  someone's wife and  significant other from this house. It was there when I left for VSO- Nepal and embraced me warmly when I came back two years later. We bid adieu to my younger brother who had spread his wings and was leaving the nest. We found Bharat in this house; the man  who is the backbone of our family, someone who knows our food preferences and ensures that we are properly and adequately fed.Durga didi whose simle lit up the whole house as she amicbley chatted while doing the laundry and the dishes. Someone who took care of us as her own family. Last but not t least this house gave me my room-mate, Richa. She is not only my cousin and roommate but over time has become my partner-in- crime, the person I confide in.
I feel sad and my eyes fill up with tears when I think that I have only a week left to  soak in the immumarable memories of this house ; to  memorise every nook and corner of this house and put it the memory box of my heart.
 I was talking to a friend from across the border ( after  making unsuccessful attempts at reaching out to two other friends in the same city) about my feelings for the house and my sadness over leaving it. I feared being judged ( as I have been over the past few days when I have tried sharing this  with someone). He, however, had one thing to say " Enjoy the house over the next week as much as you can Pragya".  I intend to do just that. Wipe my tears off , put a smile and breathe in the air that surrounds my house. I may be leaving it in a few days but it will always be with me, my own bundle of memories.