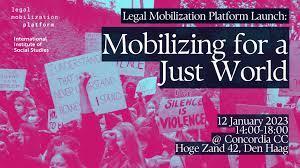 https://www.iss.nl/en/news/mobilizing-just-world
After months of anticipation, the Legal Mobilization Platform launched last week live from Concordia CCOpens external in The Hague and streamed over Zoom across the globe.
The launch event, 'Mobilizing for a Just World', provided a sneak peek into the platform's future activities which will involve, at their core, efforts to unite people in their efforts to mobilize for a world of socio-economic, climate and racial justice.
Delving into legal mobilization
After introductions from the platform's coordinator, Rana KuseyriOpens external and moderator, Professor Ambreena ManjiOpens external, we discussed how we conceptualize (climate) justice and how we should conceptualize it. Next, speakers Obiozo UkpabiOpens external from the University of Humanistic Studies, Dr Margaretha Wewerinke-SinghOpens external from the University of Amsterdam and Dr Misha PlagisOpens external from Leiden University shared their thoughts on this question, which ranged from storytelling as a means of legal mobilization to geographical biases and climate effects. 
The following session, on who we mobilize with and for, raised critical discussions on who is included in litigation processes, their roles, movement lawyering and what role, if any, law should have in mobilizing rights. In addition to these questions, Waruguru GaithoOpens external from the University of Cambridge, Dr Eva RieterOpens external from the Radboud University in Nijmegen and Dr Jeff Handmaker from the International Institute of Social Studies reflected on their positions within legal mobilization processes. 
In addition to our discussions, we enjoyed sketches by Jade BorraOpens external from our pre-launch workshop earlier this year and a musical performance by Lois AvaOpens external, a singer-songwriter from The Hague. 
Watch the launch and behind-the-scenes footage
We are very grateful to everyone who joined our launch. Did you miss the launch? Catch up on what happened by watching the full event recording on ISS' Youtube channelOpens external. Thank you for your support, and we are excited to see where this new year will take us.