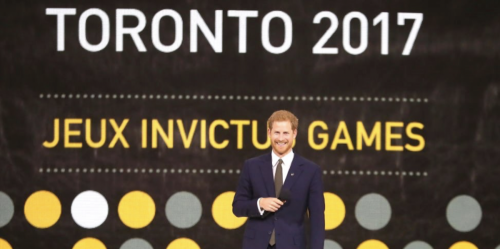 https://invictusgamesfoundation.org/
Following the inaugural Invictus Games in 2014, the Invictus Games Foundation was set up to develop the legacy of Games which includes manage the process of selecting the hosts of future games and oversee their delivery.
The second Invictus Games was held in Orlando, Florida in May 2016. The Invictus story will continue with the 2017 Invictus Games taking place in Toronto, Canada from 24 - 30 September 2017, followed by the Invictus Games Sydney 2018 in October 2018.
The third Invictus Games are being  held place in Toronto, Canada from 23 – 30 September 2017. These Games will bring together more than 550 competitors from 17 nations for 8 days of fierce competition. As well as countries who participated in the 2014 and 2016 Invictus Games, Ukraine and Romania will take part in their first ever Invictus Games.
They are taking part in 12 adaptive sports including archery, athletics, indoor rowing, powerlifting, road cycling, sitting volleyball, swimming, wheelchair basketball, wheelchair tennis and wheelchair rugby. Also, new to the sports line up will be golf.
There will also be a demonstration match of sledge hockey. All competitions will take place in state-of-the-art sport venues throughout Toronto.
The Invictus Games Toronto 2017 are being organised by the 2017 Invictus Games Organising Committee. The Organising Committee was established to build on the success of the London 2014 and Orlando 2016 Invictus Games to put on an event that will capture the imaginations of the Canadian public, corporations and governments, as well as soldiers, veterans and their families.
Hosting the Games in Canada in 2017, the year the country celebrates its 150th anniversary, will provide a unique opportunity for Canadians to commemorate and honour its ill, wounded and injured soldiers, and their families.
The Invictus Games Toronto 2017 will also mark the beginning of a legacy program to support the growth of adaptive sport programs in Canada and to further personal and professional opportunities for servicemen and women transitioning from the Canadian Armed Forces.