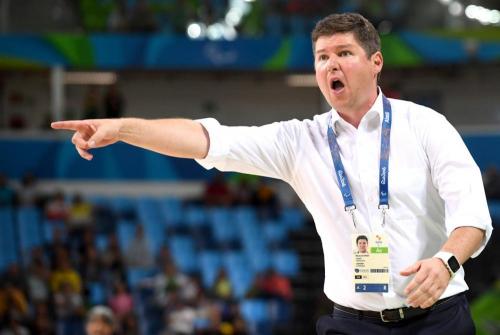 Nicolai is one of the pillars of wheelchair basketball in Germany and Europe. He has been playing and coaching at the highest levels since 1994. From 2008 to 2010 was an Assistant Coach of the Canadian Men´s National Team and since 2010 the German National Coach of the Men's team. In addition, Nicolai is the Head Coach of RSV Lahn-Dill, one of the strongest teams in Europe and the current German Champion. Throughout his career, Nicolai has been national champion eleven times, Champions Cup Winner in 2010 and 2012; World Champions Cup Winner 2010, European Championships 2011 (Silver), 2015 (Bronze).
How did you first get involved with wheelchair basketball, what was the reasoning behind your decision to get into the sport, both as a coach and player?
I started playing standup basketball at the age of 8 and have been playing ever since. In 1994 the German Bundesliga was opened up for able bodies. Through that, every wheelchair basketball team was looking for basketball players, that they could teach how to move the wheelchair and tried to convince them to play wheelchair basketball. I loved it right from the beginning. It's so dynamic and the wheelchairs are incredible. Plus, it's more a team sport than the standup game. Less one on one. Which is fun. On top of that, there were incredible great characters on the team. And for whatever reason it seems like the whole wheelchair basketball world is a family. I love "that" game.
As I was a coach in standup basketball before my wheelchair basketball career, it was kind of given, that I would also coach in wheelchair basketball. I played for 12 years in the highest league. Have been a players/coach for four years and after I retired and started coaching. That is now 11 years ago.
I'm just in the sport as I like it so much. The product is great to sell on top of all that, especially in an environment where Paralympic sports gets more and more recognized.
What would you consider to be your greatest achievement within the sport of wheelchair basketball, both personally and with RSV Lahn-Dill? Is there anything else that you or your team would like to achieve within the game?
The aspect that I'm really proud of is that I was able to get more and more people involved and fascinated into our program and that we built up a long-lasting program, meanwhile running in its 25th year and still being successful. Also, we were able to promote "the product" to the government bodies of our region, the media and our sponsors. Lahn-Dill right now has more than 120 sponsors and is recognized as a professional sports team.  As we won the World Cup, six times the Champions League and multiple national championships, I'm really looking forward to be very successful with our national team program. 
Now that you have achieved almost everything within the sport, and after over 20 years of experience, what incentivizes you to keep doing it every day? And is this the same now as it was when you first started within the sport?
The longer I'm in the program the more I know about my deficits. Meaning I have to keep working harder and harder and learn more than ever.  I still really like to work on the details with my players. I'm watching our juniors team playing in Toronto at the World Championships for U23 every day. Even though we all like to think big, we have to take care of the details. We just need that to build big.
But I can promise I enjoy the sport more than ever. We are about to establish a coaching association in Europe. That is exciting, too.  Also, I was fascinated by the Engage Program run in Nepal. I really would like to help, if I can. The program is established so well. It is a role model project that many countries should look into. Even though it always needs the people to push it. The papers don't change a thing.
Over your time in the game, in your opinion how has wheelchair basketball developed over the years? Regarding both the game itself and how people perceive it?
The game has become so much fast and there is so much more Basketball IQ out there. Especially in Europe, most popular in countries like Spain, Italy, Turkey, France and Germany professional leagues have been established. It is amazing to see and just great to see Paralympic athletes competing with Olympic athletes for the recognition of the sport. People get fascinated by the most famous Paralympic sport. On top of that disable athlete function as role models and heroes for able body people and kids. Why not!