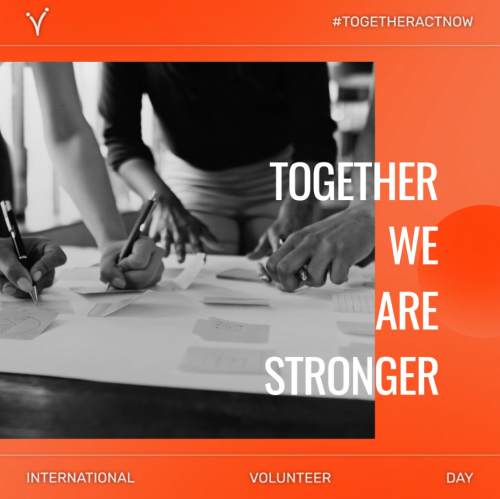 https://www.unv.org/international-volunteer-day-2022
[Dateline/Date] – The value and impact of volunteers are celebrated every day of the year, but a special day is set aside each year to mark the contribution of volunteers to making the world a better place to live in. This year's International Volunteer Day (on December 5) is focused on the theme of solidarity through volunteering.
The United Nations Volunteers programme (UN Volunteers) has chosen the slogan "Together, act now" to highlight the value of volunteers and their ability to create positive change. On International Volunteer Day 2022, we are highlighting the power of our collective humanity to drive change through volunteerism. Events to mark the day are held in every region of the world, bringing together volunteers, governments, and civil society to celebrate the impact of volunteers in their countries and communities.
The latest estimate shows that more than one billion people around the world volunteer their time, skills, and experience to help improve the communities they live in. From providing practical support to vulnerable children and adults to advising on sophisticated technical and legal issues, volunteers are present at all levels of society. Each one brings a specific set of skills to the tasks they take on.
"On International Volunteer Day, we pay tribute to volunteers across the globe," said Toily Kurbanov, Executive Coordinator of UN Volunteers. "Their time, efforts and passion make a positive impact on people's lives and help address the planet's most challenging issues. On behalf of everyone at the UN and elsewhere, I would like to express my deepest gratitude for their ongoing commitment."
The impact of climate change, the COVID-19 pandemic, together with political and economic shocks around the world, highlight the challenges facing many people and communities in their daily lives. The act of volunteering, and the solidarity it demonstrates, help to address the inequalities in all our communities and provide at least some support to the most vulnerable in all our societies.
By highlighting the impact volunteers are already having on their communities, International Volunteer Day is also an opportunity to encourage more people to think how they can volunteer within their own societies. We want to recognize the invaluable contribution volunteers are already making and encourage more people to join them.
Wherever you are, we invite you to celebrate the many millions of people worldwide who volunteer their time, experience, and skills every day – and to join them if you can.