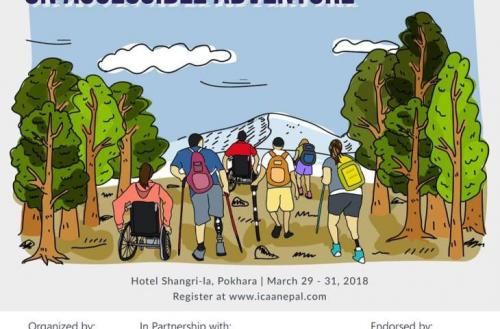 Launch of Nepal's first accessible trail
In a historic move, Nepal's very first accessible trekking trail was launched today by Tourism Minister, Honourable Rabindra Adhikari.
The unveiling of the trail was the finale event capping off three days of lively discussion at the inaugural International Conference on Accessible Adventure 2018, held at Hotel Shangri-la in Pokhara.
The 1.24km trail has been modified with handrails and a widened smoothed path to be suitable for wheelchair users, senior citizens and walkers with mobility limitations. The trail includes an accessible bathroom and offers stunning panoramic views of Mt. Dhaulagiri, Mt. Annapurna and Mt. Manaslu as well as a tranquil forest setting.
The momentous launch of the accessible trail is considered a key first step in making Nepal the 'Accessible Adventure Capital of Asia'.
The conference further made history by announcing March 30 as the new annual 'Tourism for All' day – a day to focus on progress and the importance of accessibility in the tourism industry in Nepal.
The announcement was made jointly by Nepal Tourism Board and International Development Institute at the second day of the International Conference on Accessible Adventure 2018.
"The objective of declaring this day is to remind us to be focused on these kinds of issues and activities," said Mr Deepak Joshi, CEO of Nepal Tourism Board as part of his address to the more than 130 conference attendees.
The commitment was supported by Honourable Prithavi Subba Gurung, Chief Minister of Province 4 and Honourable Bikash Lamsal, Tourism Minister for Province 4 with Honourable Subba Gurung declaring that accessibility and disability friendly considerations will be incorporated into the many tourism development projects being prioritised under his supervision.
Conference attendees also heard from a number of industry experts, advocates and enthusiasts from across Nepal, Asia, USA and Europe who shared accessible tourism best practice learnings and discussed their applicability to Nepal.
Achieving accessible adventure in Nepal was acknowledged as a long continuing process and ICAA 2018 was identified as merely the starting point for expanding Nepal's tourism market and making the country more accessible for all travellers.
"For this conference, we want to find the right partners and the appropriate funding to make accessible adventure strategic planning our main focus for the next two years," Mr Heather, co-chair of ICAA and sustainable tourism expert from International Development Institute said. "We believe the work of the past two years in setting the stage for this conference will lead to the next two years of shaping Nepal's tourism industry to be Asia's leader in accessible adventure."
Mr Heather also acknowledged the growing global market of accessible adventure and announced IDI's focus on accessible tourism in Nepal, with Pokhara as the initial target destination.
"Our vision is to make Pokhara the model accessible tourism destination for Nepal with the lessons learned here, packaged for application throughout the rest of the country," Mr Heather said.
Renaud Meyer, UNDP Country Director identified inclusive tourism as both a human rights issue and an opportunity for economic development in Nepal and congratulated conference organizers on their efforts to advocate for inclusivity within the travel industry, confirming the UNDPs continuing position as a champion for accessible tourism in Nepal.
Participants also heard from keynote speaker, Corporal Hari Budha Magar. Mr. Magar is a Gurkha war veteran who lost both his legs in an IED explosion while serving in Afghanistan in 2010. However, Mr Magar hasn't let his disability stop him from travelling and participating in adventure activities.
"I have kayaked, skied, skydived and climbed mountains all over the world after my injury," Mr Magar told conference attendees.
Speaking of his Inspiration and Perspiration odyssey to be the first double above-knee amputee to summit Mt Everest as part of his 'Conquering Dreams' tour in 2019, Mr Magar declared, "I know I can climb Mt Everest and it's possible. I will be climbing Mt Everest in spring 2019."
It is hoped the ICAA 2018 event is the first of many of its kind in Nepal and the catalyst for a more prosperous and inclusive tourism industry allowing every person, no matter of their age or ability, have the opportunity to experience the natural beauty and culture of this unique Himalayan nation.
Other key guests at the conference included; Mr Deepak Joshi, CEO of Nepal Tourism Board; Ms Yankila Sherpa, the former Minister of Culture and Tourism; Mr Scott DeLisi, former Ambassador of USA and current Mayor of Philadelphia; Mr Shaurab Sharma, Nepal's Senior Program Manager of CBM International as well as a number of additional key government officials and tourism enthusiasts from across Asia.
ABOUT THE CONFERENCE:
The landmark three-day conference brought together international best practice in inclusive tourism for seniors and travellers with disabilities. The conference intends to lead to improved tourism infrastructure, facilities and services and provide new opportunities for people with mobility challenges for employment and experiencing Nepal's tourism wonders.
The conference was held at Hotel Shangri-La in Pokhara, Nepal and was attended by over 130 participants from Nepal and overseas.
ICAA 2018 has been organised by Nepal Tourism Board and US-based International Development Institute with the support of a number of local partners.
Please visit www.icaanepal.com or contact Mr. Suman Timsina at icaa@idiworldwide.net for information and photographs on the event.