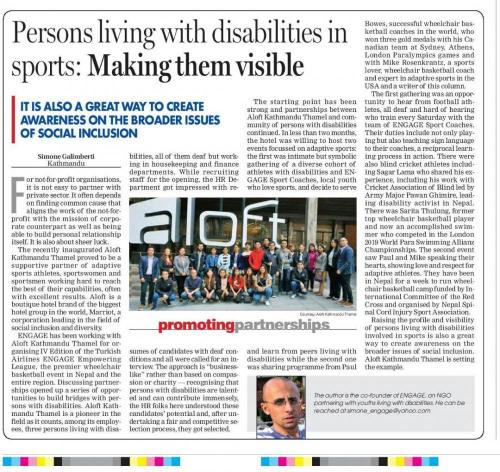 For not for profit organizations is not easy to partner with the private sector. It often depends on finding a common cause that align the work of the not for profit with the mission of the corporate counterpart as well as being able to build personal relationship, itself something that often is challenge itself. Frankly speaking is also about sheer luck.
The recently inaugurated Aloft Kathmandu Thamel proved to be a generous and supportive partner of adaptive sports athletes, sportswomen and sportsmen working very hard, pushing themselves day in and day out to reach the best of their capabilities, often with excellent results.
Aloft is a boutique hotel brand of the biggest hotel group in the world, Marriot, a corporation itself leading in the field of social inclusion and diversity.
ENGAGE has been working with Aloft Kathmandu Thamel for the organization of the IV Edition of the Turkish Airlines ENGAGE Empowering League, the premier wheelchair basketball event not only in Nepal but in the entire region. Discussing partnerships opened up a series of opportunities all focused on the desire to build bridges with persons with disabilities.
It is notable that Aloft Kathmandu Thamel, despite being in its infancy stage, is already a pioneer in the field as it counts, among its employees, three persons living with disabilities, all of them deaf but contributing and working very hard in the housekeeping and finance departments.
It happened that while recruiting staff for the opening, the HR Department got impressed with some resumes sent by candidates with deaf conditions and all of them were offered an opportunity to take an interview and they were all successful.
The approach is "businesslike" rather than based on compassion or charity: recognizing that persons with disabilities are, like anyone else, talented and can contribute immensely, the HR folks at the hotel understood the potential of these candidates and, after undertaking a fair and competitive selection process, they got selected.
The starting point has been strong and the partnerships between Aloft Kathmandu Thamel and the community of persons with disabilities continued.
In less than two months, the hotel was willing to host two events all focused on adaptive sports: the first one was an intimate but highly symbolic gathering of a diverse cohort of athletes with disabilities and the ENGAGE Sport Coaches, local youth who love sports and decide to serve and learn from peers living with disabilities while the second one was a sharing program from Paul Bowes, one of the most experienced and successful wheelchair basketball coaches in the world, who won three gold medals with his Canadian team at Sydney, Athens, London Paralympics games and with Mike Rosenkrantz, a sports lover, himself a wheelchair basketball coach and expert in adaptive sports in the U.S.A. and a well-known writer of this column.
The first gathering was an opportunity to hear from young football athletes, all deaf and hard of hearing who enthusiastically train every Saturday with the team of ENGAGE Sport Coaches. Among their duties not only playing at the best of t heir capacities but also teaching sign language to their coaches, a truly reciprocal learning process in action.
There were also blind cricket athletes including Sagar Lama who share his experience, including his work with the Cricket Association of Blind led by Army Major Pawan Ghimire, one of the leading disability activist in the country.
Finally there was also Sarita Thulung, a former top wheelchair basketball player and now an accomplished swimmer who recently competed in the London 2019 World Para Swimming Allianz Championships.
The second event saw Paul and Mike speaking their hearts, showing great love and respect for all adaptive athletes. They have been in Nepal for a week to run a wheelchair basketball camp funded by the International Committee of the Red Cross and organized by the Nepal Spinal Cord Injury Sport Association, a pioneering organization in the field of adaptive sports in Nepal.
Offering local athletes and coaches the opportunity to work with Paul and Mike is of tremendous values as they learn new techniques and drills, enhancing their expertise while also deepening their understanding on fundamental values embedded in team sports.
Aloft Kathmandu Thamel offered not only a venue for such event but also made sure that its employees would learn and understand more about disabilities and about the sacrifices and contributions that adaptive sports athletes are making to excel and to make their country proud of them.
Raising the profile and visibility of persons living with disabilities involved in sports is also a great way to create awareness on the broader issues of social inclusion.
Aloft Kathmandu Thamel is setting the example and hopefully other corporates will follow suit.
Galimberti is the Co-Founder of ENGAGE, an NGO partnering with youths living with disabilities. He can be reached at simone_engage@yahoo.com