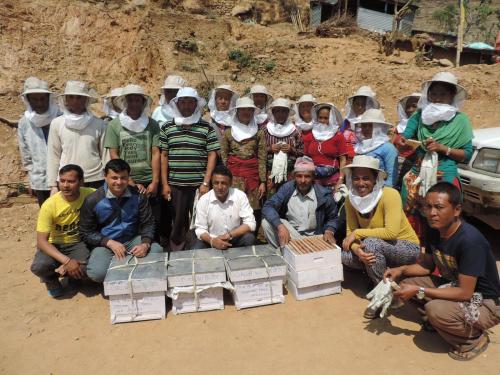 Last year's earthquakes and their aftermath created numerous opportunities for "building back better".  In Nepal approximately 80% of families' livelihoods revolve around subsistence farming in which not even enough food is grown to feed a household for an entire year.  I recently observed the work of three NGOs in Dolakha, Rasuwa and Lalitpur all of whom are working in partnership with World Jewish Relief to help a large number of rural families to grow for and connect with commercial markets in order to increase their household incomes. 
I truly believe in an integrated development approach in which focus is placed on health, education, livelihoods, climate change, women and youth empowerment, advocating for land rights, etc.  However, having a sustainable livelihood is key to making advances in all of the other areas, e.g. having greater household income can lead to better health and educational opportunities. 
Initially I went to Dolakha to observe the livelihood work of Nyayik Sansar (NS).  I was able to see how the organization works with locals to choose farmers to participate in growing ginger for commercial market.  NS fully implements comprehensive community development initiatives.  In terms of livelihoods NS has focused on mainly growing nutritional items for household consumption and not necessarily income generation.  But due to the comprehensive nature of their work NS staff was able to hold a meeting with a number of small farmers and local shop owners explaining how helping farmers to connect with  a variety of markets could help to increase household income.  This fits in well with NS's work in assisting community members to build trust and further collaborate.  This work has also pushed NS to expand their capacity to further help the community.
I next went to Lalitpur to observe the work of Friends Service Council Nepal (FSCN) an organization that is working on issues of socio-economic development and human rights, with a strong focus on disaster risk management.  Since it is adjacent to Kathmandu parts of Lalitpur have a high Human Development Index (HDI), but the areas in which FSCN is working were quite similar to what I saw in Dolakha, which has a much lower HDI.  I observed how FSCN is working with the Lalitpur District Agriculture Development Office (DADO) in providing very practical trainings in both tomato and cucumber growing, two crops, which if also grown in the off-season for commercial purposes have good potential for helping participants to increase their household incomes.  Through partnering in the completion of a collection centre managed by a women's self-help group the greater community will be able to be involved in collaborative market creating greater community development and better income generation.  Although FSCN has had some past livelihood projects, again the opportunity of building back better has pushed the organization to get more deeply involved in facilitating community members in developing sustainable commercial businesses.
My final visit was to Rasuwa, where Community Self Reliance Centre (CSRC), a national land rights organization is also focusing on providing DADO and entrepreneurial trainings, providing business inputs and also connections to markets.  I observed a bee keeping training and also talks with a number of community members about livelihoods development, as well as, tunnels being built for commercial tomato growing.  CSRC primarily works with both landless and small holder farmers in advocating for their land rights.  Land, as the basis for almost everything in Nepal, is also a national policy focus for the organization.  But, the management of CSRC has also realized that the people whom they are working with must have adequate livelihoods if the land rights movement is to be sustainable.  Again, the earthquakes have also pushed CSRC to deepen their work on livelihoods development.
From my visits it is clear that the work that these organisations are doing with a push from their partner World Jewish Relief will in the longer term help the people living in the project areas to increase their household incomes.  However, I also realized that sustainable livelihoods work is a long term prospect, teaching people how to grow for and connect with commercial markets.  My visits also showed me that out of disaster one can build back better.