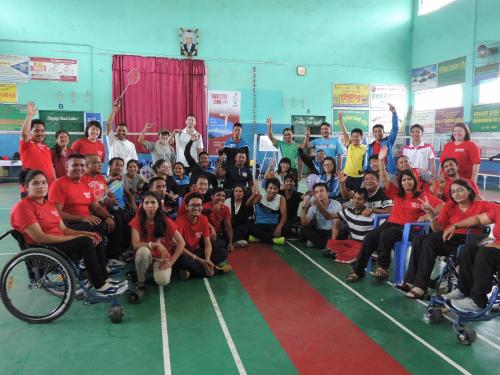 I was in Pokhara a week ago visiting a dear friend.   I came to find out that a badminton training for people with and without physical disabilities was being offered at the Pokhara Covered Hall.  Given my interest and experience with sports for persons with disability I decided to attend.
As I entered the Covered Hall I recognized many of the persons with disability who are my friends and who also participated in the recently completed Turkish Airline ENGAGE Empowering (wheelchair basketball) League.  I was greeted by a number of slogans: Please be Friendly, Co-operative, Helpful and Gentle;  More Sport, Less Poverty; and Peace, Health, Social Inclusion. I saw people with and without physical disabilities, men and women.  All of this set the tone for what I was about to witness on the two badminton courts.
What I found was a model of inclusive partnership that seeks to bring badminton to children throughout Nepal and many other parts of the world. The partners, working under a program called Shuttle Time, included Nepal Badminton Association (NBA), the Australian Government, Badminton World Federation  (BWF), Badminton Asia, Badminton Australia and Sport Matters.  (There was also a Nepali man who is part of the World Para Taekwondo organization). 
Shuttle Time is a program of the BWF and is currently being implemented in more than 100 countries.  The Nepal Program started in February 2016.  In order to reach locals the program resources have been translated into more than 17 languages and it will soon be translated into Nepali.  The program also provides badminton kits which includes shuttle cocks and racquets. Some sports wheelchairs are also provided through Motivation UK.  With the Sydney based Sport Matters taking the lead, the NBA is the local implementing partner. 
The Shuttle Time program model is focused on sustainability.  In Pokhara, tutors from the five regions in Nepal were invited to take part in a Training of Tutors.  The tutors, both with and without disability, will train teachers who will train students. The NBA will ensure that this process continues and that the program reaches children throughout the entire country. Currently the program is in 41 districts, giving every child an opportunity to play. 
I asked Gyanendra Sipai who is an Administrative and Development Officer with Shuttle Time Nepal why it's important for people with disability to participate.  He said, "people with disability should  not feel weak as they are part of society and can do something for the nation through sports."  Mr Sipai further went on to say that it is vital to partner as Nepal has a lack of resources and the government is not able to provide (badminton) equipment.
Marianne Loh, a Participation Manager with Badminton Australia, and who was part of the winning 2012 Australian Closed Championships Women's Doubles Plate Event and the 2000 Australian Under 19 Women's Doubles Championship, stated that,  "Shuttle Time has the broad objective of giving every child a chance to play badminton for life, something that Badminton Australia values. We see an importance in using sport to drive social agendas such as inclusion, peace and health. The Shuttle Time Nepal project has also given Badminton Australia the opportunity to develop closer cultural and community links, and build strong awareness of sport for development."
With the rise and interest in the development of sports for persons with disability in Nepal, now is an opportune time for the Government (and private sector) to be more pro-active in working with sports organisations on becoming more inclusive in their trainings and offerings.  This might include inclusive basketball, badminton and other sports tournaments and leagues.   It is equally important for the two paralympic committees and other organisations working in the area of disability sports to put aside their differences and seriously collaborate to move forward the rights of persons with disabilities and create a more inclusive Nepal.  Sports has the power to accomplish this.  This is about all of us; and comes down to promoting Peace, Health and Social Inclusion for the nation.