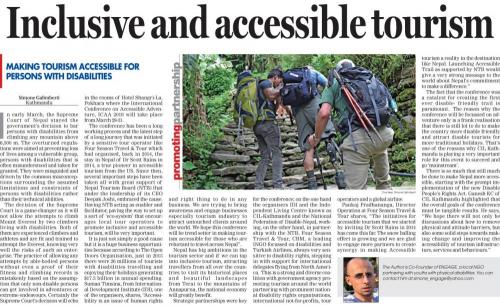 In early march, the Supreme Court of Nepal stayed the government's decision to bar persons with disabilities from climbing any mountain above 6,500 metres.
The overturned regulations were aimed at preventing loss of lives among a vulnerable group, persons with disabilities that is often misunderstood and often taken for granted.
They were misguided and driven by the common misconceptions surrounding the assumed limitations and constraints of persons with disabilities rather than their technical abilities
The decision of the Supreme Court is a game-changer as will allow the attempts to climb Mount Everest by two climbers living with disabilities, Hari Budha Magar, a double amputee and Amit KC who is visually impaired.
Both of them are experienced climbers and athletes and are fit and trained to attempt the Everest, knowing very well the risks of such enterprise.
The practice of allowing any attempts by able bodied persons without even a proof of their fitness and climbing records, is mistakenly based on the assumption that only non-disable persons can get involved in adventures or extreme endeavors.
Certainly the Supreme Court's decision will echo in the rooms of Hotel Shangri-La, Pokhara where the International Conference on Accessible Adventure, ICAA 2018 will take place from the 29th and 31st of March.
The conference has been a long working process and the latest step of a long journey that was initiated by a sensitive tour operator like Four Season Travel & Tour which had organized, back in 2014, the stay in Nepal of Dr. Scott Rains in 2014, a true pioneer in accessible tourism from the U.S.A.
Since then, several important steps have been taken all with great support of Nepal Tourism Board, NTB that under the leadership of its CEO Deepak Joshi, embraced the cause.
Having the Nepal Tourism Board acting as enabler and facilitator, paving the way to set up a sort of "eco-system" that encourages local tour operators to promote inclusive and accessible tourism, will be very key.
It is just not simply a good cause but it is a huge business opportunities because according to The Open Doors Organization, just in 2015 there were 26 millions of tourists with disabilities travelling and enjoying their holidays generating $17.3 Billion in annual spending.
Suman Timsina, from IDI, one of the organizers, shares" "Accessibility is an issue of human rights and right thing to do in any business. We are trying to bring awareness and engage businesses especially tourism industry to attract untouched clients around the world. We hope this conference will be trend setter in making tourism accessible for those who are reluctant to travel across Nepal".
Nepal has big ambitions in the tourism sector and if he can tap into inclusive tourism, attracting travellers from all over the countries to visit its historical places and beautiful landscapes from Tarai to the mountains of Annapurna, the national economy will greatly benefit.
Strategic partnerships were key for the conference: on the one hand the organizers, the International Development Institute, IDI,  and the Independent Living Center known as CIL-Kathmandu and the National Federation of Disable-Nepal, working, on the other hand, in partnership with the NTB, Four Season Travel & Tour, CBM, a leading INGO focused on disabilities and  Turkish Airlines, always very sensitive to disability rights, stepping in with support for international delegates flying from North America.
This is a strong and diverse coalition with government agency promoting tourism around the world partnering with prominent national disability rights organizations, international not for profits, tour operators and a global airline.
Pankaj Pradhananga, Director Operation at Four Season Travel & Tour shares "The initiatives for Accessible tourism that we started by inviting Dr. Scott Rains in 2014 has come this far. The snow balling effect is growing and we are glad to engage more partners to create synergy in making Accessible tourism a reality in the destination like Nepal. Launching Accessible Trail as supported by NTB would give a very strong message to the world about Nepal's commitment to make a difference"
The fact that the conference was a catalyst for creating the first ever disable friendly trail is paramount.
The reason why the conference will be focused on adventure only is a frank realization that there is still lot to do to make the country more disable friendly and attract disable tourists for more traditional holidays.
That's one of the reasons why CIL Kathmandu is playing a very important role for this event to succeed and go "mainstream".
There is so much that still much be done to make Nepal more accessible, starting with the prompt implementation of the new Disable People's Rights Act.
Mr Ganesh, Chair of CIL Kathmandu highlighted that the overall goals of the conference must be tangible results "We hope there will not only be many discussions about how to remove physical and attitude barriers, but also some solid steps towards making change and improving the accessibility of tourism infrastructure, services and behaviors."
If ICAA 2018 will create momentum on inclusive tourism in Nepal and more actions will be taken in its follow-up, surely Nepal can become a trailblazer in the region, not only for international and national disable tourists but for the millions of persons with disabilities of this country who still have most of their rights denied. For more information, http://www.icaanepal.com/
The Author is Co-Founder of ENGAGE, a local NGO partnering with youths with physical disabilities. You can contact him at simone_engage@yahoo.com