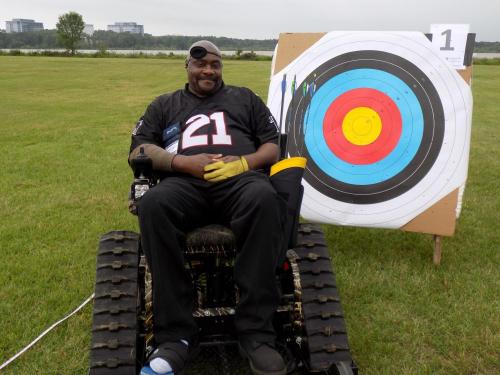 The end of May held two very special events for me. During the week of May 19 I worked alongside my colleagues in successfully running the seventh annual Valor Games Southeast (VGSE). The second event was attending a large family reunion in Seattle for my cousin Sadie's bat mitzvah.
I helped out at my first VGSE last year in which 115 disabled veterans from across the southeastern United States participated in 11 events. This year more than 120  participated in the games, and having one year of experience under my belt, I was more comfortable. Working mostly behind the scenes with three colleagues, we transported equipment between venues.
Just like last year I coordinated the wheelchair basketball competition.  This year after the events ended standing on the courts by myself, I was able to look up towards the rafters, taking in the names of former players and national titles displayed on banners. I stood on the same courts where people such as Michael Jordan, James Worthy, Dean Smith, Roy Williams, Grant Hill, and Mike Krzyzewski (Coach K), played and coached. After unloading equipment one day at Duke we saw and took a photo with Zion Williamson, who will be the number one pick in the upcoming NBA draft. I was in basketball heaven. 
But this Valor Games, as all of those previous, was about getting to know and support veterans who want to meet old friends and compete no matter their ability.
Life is difficult enough with all of its ups and downs; there is a lot of personal suffering that takes place throughout the world. For the Valor Games athletes, as well as other veterans, another layer is added to their lives as they have to deal with whatever emotional and physical traumas they have experienced.
The staff; numerous volunteers from major companies such as RTI, Cisco, and MetLife; venue staff; and sponsors all work to enable the athletes to perform their events at their highest personal level. Although I observed the highly competitive nature of many of the athletes, what I enjoyed seeing most were the smiles that come from having once again the opportunity to participate.
As VGSE ended on a Thursday, that evening I took a flight to Seattle to be with my immediate and extended family to celebrate my cousin Sadie's bat mitzvah (a time when Jewish boys and girls turn 13 and enter into adulthood).
Typically, these are large family reunions and in this case, there were 130 people ranging in age from newly born to 90 years old. In attendance were relatives that I hadn't seen in years. I was able to reconnect with cousins, uncles, aunts, and friends. I was most appreciative of connecting with an uncle who I hadn't seen in five years. Many of these people I might not speak with for another few years, when the next family gathering occurs, but there are some whom I will deepen my connection with.
The theme that ran through both of these events is the importance of human connection which is vital for our emotional health. These types of gatherings can bring up multiple feelings. It might be the veteran who is reminded of the friends who have died in battle or the parts of his or her body that no longer operate/exist; or my aunt whose husband passed away more than five years ago and has difficulty finding balance at a family reunion.
As athletes left the Valor Games many of them were already looking forward to seeing their friends in 2020. During Sadie's bat mitzvah her grandfather, Papa Tony, wrote and sang a song to her with his two sons, Zach and Joe. The song was about how she will always have support from people who were in the room. Both of these events reminded me about the importance of caring for others and the value in listening to and validating their stories. These acts make our small worlds, and ultimately the larger world, a better place.