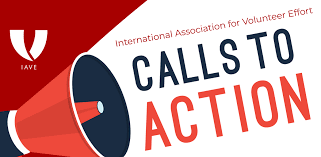 https://www.iave.org/volunteering-for-social-change/
https://zoom.us/webinar/register/WN_d92s0qalTd6oCpeUNNttHQ
The Voluntary National Reviews
Reporting the impact of volunteering to achieve the Agenda 2030
The Voluntary National Reviews (VNRs) are the way in which countries report to the United Nations on the progress they are making on the Sustainable Development Goals (SDGs). Not enough countries include volunteering in their VNRs, mainly because there is too little recognition by governments of the important role volunteering plays in achieving the goals.
Analyzing examples and advancements made so far, this session will explore how incorporating evidence on volunteering on the VNRs is imperative to highlight citizen participation and engagement, demonstrating pathways and processes for leaving no one behind. 
Join Volunteer Groups Alliance, United Nations Volunteers, France Volontaires, NOREC and IAVE for this important session on how we can effectively include volunteering in our VNRs.
 
Volunteering for Social Change
Join us for our 4-part webinar series as we explore the role of volunteers in social activism and the various ways they contribute to a more peaceful, equitable and sustainable society. The sessions will have a particular focus on the role of volunteers in dealing with the impact of and supporting the recovery from the COVID-19 pandemic. Each of the following sessions will feature an overview on the topic and will highlight examples from practitioners on the field:
Join us for Part 1 of the series on Wednesday 
February
 3 on Volunteerism and Social Activism with Chris Millora, Samuel Omoll and Wolfgang Krell!