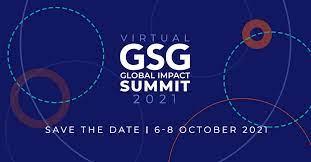 more info here: https://web.cvent.com/event/1a85b365-bdff-4753-bb64-93e1dc9b97b1/summary
Today, the 2021 GSG Impact Summit started: the annual global gathering of the impact investment community. Over three days, our provocative and diverse range of speakers will address four themes: mobilising capital for impact; impact in emerging economies; green and social solutions for a just transition; and impact harmonisation and transparency. 

From Covid to climate change, the world is in the midst of profound change. Private capital is now needed more than ever to provide new funding and new innovation. We hope you enjoy our packed agenda. Below are some of the highlights from today. 

See you tomorrow for Day 2!
CLIFF PRIOR
CEO, THE GLOBAL STEERING GROUP FOR IMPACT INVESTMENT