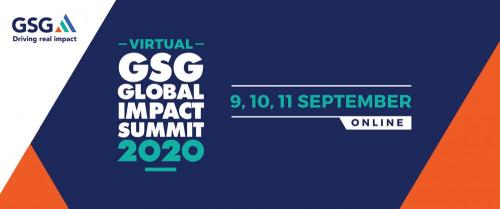 https://web.cvent.com/event/87a0a94f-0b18-499b-8f43-d36885db6e16/summary...
The time is now for a just and impact-led recovery that benefits all people and our planet. Bringing together stakeholders from across the world, this year's event will showcase how the actions of us all, are putting impact at the heart of COVID-19 response and recovery.
As the impact economy approaches tipping point, it brings solutions that the world needs – and the Summit will highlight our incredible capacity to respond, re-build and rally.
Over three days we will build a virtual space for you to be inspired, share your progress and collaborate in a wide variety of interactive formats including networking roundtables, 1:1 meeting rooms and deep-dive workshops.
We're scheduling it across timezones so that wherever you are, you can access the most relevant portions of the conference live. Core programming each day will run for three action-packed hours, alongside regional sessions for your timezone.
GSG NAB Members can access limited complimentary passes via their NAB Chair.
A pass for all three days of the Summit  is just US$150 (including tax) for non-members.
MESSAGE FROM CLIFF PRIOR
CEO, Global Steering Group for Impact Investment
The Covid-19 crisis has created an urgent need for a just, impact-led recovery that serves all people and preserves our planet. It presses us to change our ways, so that we can address the great social and environmental challenges ahead of us. It is urgent that we bring impact to the heart of our economies if we want to save billions of people from greater hardship, it is urgent that we bring impact policies to the heart of our economic measures. 
On 9, 10, 11 September we will be joined at this year's virtual GSG Global Impact Summit (www.gsgii.org/summit) by

Kristalina Georgieva

of the IMF,

Jessica Alba

of The Honest Company,

Ibukun Awosika

of First Bank of Nigeria,

Achim Steiner

of the UNDP,

Gillian Tett

of the Financial Times,

Emmanuel Faber

of Danone,

Paul Romer

(Nobel Prize winner), and many extraordinary people with front-line experience and innovation, from across the world, committed to impact. This will be an exceptionally diverse and purposeful Summit. Full agenda is

here

.
We will be calling on the world's leaders to:
1. Scale impact investment to combat unemployment, reduce inequality and preserve the environment
2. Mandate impact transparency and accountability for companies
3. Introduce legal clarity for companies and investors to pursue impact
Our Chair, Sir Ronnie Cohen, and George Serafeim, have taken another step forward in our journey towards impact transparency this week, with the publication of How to Measure a Company's Real Impact in the Harvard Business Review: "Impact transparency will reshape capitalism…It will redefine success so that its measure is not just money but the positive impact we make during our lives."
Here is a brief snapshot of our confirmed speakers at this year's Summit. View the Speakers page to read their biographies and see who else will be sharing their experience and insights.
The Administrator of the UNDP
Independent Consultant, Africa Development  & Investment
Moral Money Co-Founder, Editor-at Large, US,
Financial Times
Chair, First Bank of Nigeria
Founder, The Honest Company