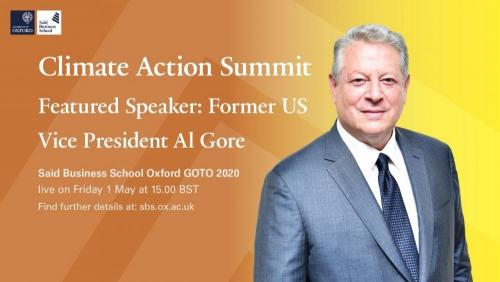 https://www.sbs.ox.ac.uk/oxford-answers/goto-climate-action-summit-al-gore-former-us-vice-president-keynote-speaker
Former US Vice President Al Gore joins our GOTO Climate Action summit
Al Gore pushed the issue of the climate crisis to the front of the global dialogue. His documentary and bestseller An Inconvenient Truth delivered a powerful warning about the threat of environmental catastrophe. In 2007, Gore was awarded the Nobel Peace Prize, along with the Intergovernmental Panel on Climate Change, for 'informing the world of the dangers posed by climate change.'
As the world deals with the consequences of another looming but long-ignored threat, the 45th vice-president of the US returned to Oxford, virtually, to argue that we must seize the opportunity to transform the global economy.
Gore is the co-founder and chairman of Generation Investment Management, and the founder and chairman of The Climate Reality Project, a nonprofit devoted to solving the climate crisis. He is also a senior partner at Kleiner Perkins Caufield & Byers and a member of Apple Inc.'s board of directors.
Summary
Al Gore told students that a 'sustainability revolution' offers the greatest opportunity to create new jobs in the history of the world - with the magnitude of the industrial revolution, yet the speed of the digital revolution.
Mr Gore, who won a Nobel Peace Prize for raising awareness of climate change, said that the 'exponential cost reduction curve' seen in consumer devices like mobile phones can now be applied to sustainable technologies such as solar panels. This shift is challenging the dominance of fossil fuels, and could see hundreds of millions of jobs created to retrofit the equipment into buildings, he said.
Mr Gore spoke as climate change is again brought into sharp focus, due to parallels with the Covid-19 crisis. Studies show that air pollution causes almost 9 million people to die every year, and is correlated with higher death rates from Covid-19. Across both crises, lives could have been saved had society listened to evidence from experts including scientists and doctors, said Mr Gore. Both crises have highlighted societal inequalities and discrimination which must be addressed. Businesses must now consider their impact on society, instead of focusing on short-term gains, he said.
But Mr Gore remained optimistic. Recognising the legacy and position of Oxford and its business school, he issued a rallying call for students to help tackle the climate crisis, which challenges the viability of human civilisation. 
As part of the session, four MBA students posed questions direct to Mr Gore about climate change, responsible investment, and sustainability. 
In thanks, Peter Tufano, Dean of Saïd Business School said that one of the scarcest resources that the world needs today is the strong, principled and evidence-based leadership Gore has showed through his entire lifetime. 
To close the session – part of the Leadership in Extraordinary Times series, a panel of academics revealed winners of the Oxford MBA's GOTO programme – which saw 500 students from 60 countries compete for £10,000 in cash prizes by devising systematic solutions to address climate change.
Overall winners were Hemp – who presented ideas for a 'closed loop' fashion supply chain, to encourage use of sustainable materials. Runners up were Behsalal Gambia – who suggested ways to encourage use of renewable energy. In third place, and winners of an audience vote, were Ecobytes, who explored ways to make energy use and data centres more sustainable, and in fourth place were Rethinking growth in Ladakh – who studied how to balance economic growth with preservation of traditional cultural identity and ecosystems.
Find out more about our GOTO programme and watch our students journey in this work so far. This event was delivered in partnership with Smith School and Skoll Foundation.
About GOTO
An action-oriented problem-solving community geared towards addressing some of the most complex issues that the world faces today.
Students, alumni and faculty can connect via skills sessions and tutorials to discuss, debate, and drive new business ideas that address global issues. The community addresses problems across generations, across nations and across business sectors. This provides our students with the skills to solve complex challenges and to help them become innovative leaders.
Designed to stimulate thinking, GOTO convenes and inspires a wide range of people with a variety of viewpoints to come together to identify business opportunities and generate solutions to challenges arising from high impact global trends.
An issue of high global impact is identified by experts and considered each year.
GOTO gives you two critical things:
Access to Oxford's most famous pedagogic institution: the tutorial. Oxford tutorials have sharpened students' thinking, analysis, critique of evidence and powers of persuasion for centuries.
It allows a critical analysis of the global opportunities and threats that will be, or already are, part of the business landscape for the coming few years.
The project introduces the critical skills of linking large-scale, system-level trends to your own career and to the opportunities available in your chosen sector and region. It cultivates a broad perspective and deep insights and links the most pressing threats faced by the world with the corresponding opportunities for innovative organisations and individuals.
As future leaders, you will be required to negotiate those links; we are uniquely able to provide this breadth and depth.