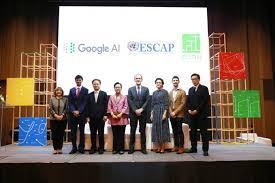 https://www.unescap.org/news/google-and-united-nations-economic-and-soci...
https://ai.google/education/social-good-guide?utm_source=APRU&utm_campai...
Google and the United Nations Economic and Social Commission for Asia and the Pacific (ESCAP), in collaboration with the National Science, Technology and Innovation (STI) Policy Office of Thailand, hosted the Asia-Pacific AI for Social Good Summit in Bangkok today, bringing together researchers, policy makers, NGOs, and the private sector from across the Asia-Pacific region to discuss the use of AI for Social Good. Guest speakers included Armida Alisjahbana, United Nations Under-Secretary-General and ESCAP Executive Secretary; Kent Walker, Senior Vice President of Global Affairs, Google; Jay Yagnik, Vice President, Google AI, Ed Husic, Shadow Minister for the Digital Economy, Australia, alongside leaders in AI from around the Asia-Pacific region and beyond.
Google formalizes partnership with United Nations ESCAP, and launches the Asia-Pacific AI for Social Impact research network
Google and ESCAP initiated a partnership to share best practices and identify solutions for promoting the use of AI for social good in Asia-Pacific. As part of the partnership, Google will be providing a grant to the Association of Pacific Rim Universities to create an Asia-Pacific AI for Social Good Research Network. "This network will bring together leading academics from around the region to produce research on how to promote the use AI for social good and how best to manage risks and concerns. It will also be a forum for these academics to discuss their research with government, civil society and the private sector," explained Kent Walker.
The partnership builds on the ESCAP's ARTNET on STI Policy Network - a regional research and training network supporting policy research to leverage science, technology and innovation as powerful engines for sustainable development in Asia-Pacific. "The partnership will focus on developing cutting edge research and policy advice on AI for sustainable development," said Armida Alisjahbana, United Nations Under-Secretary-General and ESCAP Executive Secretary. She added: "ESCAP has a mandate to strengthen the regional technology and innovation agenda through our role as a think tank, policy adviser and convener. We hope that multi-stakeholder partnerships such as the ones we are launching here today, will support member States in their efforts to harness technology and innovation in pursuit of the Sustainable Development Goals."
Training for organizations applying to Google's $25M AI Impact Challenge
Following this Summit will be the Asia-Pacific convening of the recently announced Google AI Impact Challenge, a $25 million USD call for proposals from any organization or institution with ideas for how to use AI for social good. In order to help organizations from APAC region apply for the fund, the second day of the summit will provide opportunities for potential applicants to undergo training and build partnerships, including engaging directly with leading AI experts. The AI Impact Challenge is open for applications until 11:59:59pm PST January 22, 2019 (more details here).