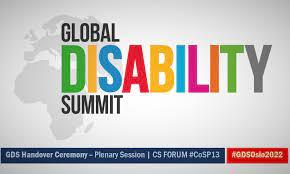 Global Disability Summit: 2022 | International Disability Alliance
The first Global Disability Summit (GDS18), held in 2018 in London, was a historical moment for disability inclusion and the rights of persons with disabilities. GDS18 generated an unprecedented level of focus on and commitment to disability-inclusive development. 171 national governments, multilateral agencies, donors, foundations, private sector and civil society organisations made 968 individual commitments, each one intended to strengthen and transform disability inclusion. More than 300 governments and organisations signed the GDS18 Charter for Change, encouraging focused implementation of the UN Convention on the Rights of Persons with Disabilities.
The first Global Disability Summit in London in 2018 was game changing, and we have high ambitions also for the Oslo Summit. Due to Covid-19 the summit will be fully virtual. The Summit in Oslo will build on the results achieved at the first summit, with the aim to further accelerate much needed progress towards the fulfillment of the of the rights of persons with disabilities all over the world.
People with disabilities want equality through access and participation. To obtain lasting change at country level, we seek collaboration with States, multilateral organizations, and civil society, we seek action, and we seek the voices of the disabled themselves.
There will also be a civil society forum, organized by IDA and the Atlas alliance.
>> Click here to download the brief report on GDS Consultations in PDF
>> Click here to download the brief report on GDS Consultations in WORD
>> Click here to view figures about GDS Consultations - October 2020 to April 2021
Additional information