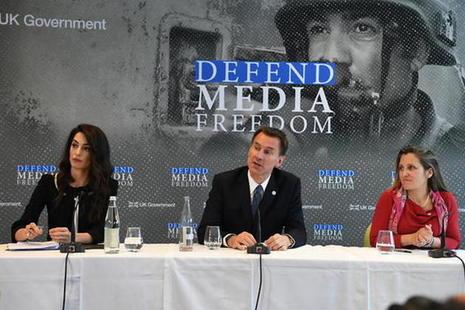 https://www.gov.uk/government/topical-events/global-conference-for-media...
Chrystia Freeland, Canadian Minister of Foreign Affairs, and Jeremy Hunt, the UK Foreign Secretary, will co-host the conference. It is part of an international campaign to shine a global spotlight on media freedom and increase the cost to those that are attempting to restrict it.
The conference will be structured around 4 themes:
protection and prosecution, including impunity
national frameworks and legislation
building trust in media and countering disinformation
media sustainability
Global leaders, representatives from the media industry, journalists, civil society and academia will gather to attend interactive panel discussions. The first day will focus on defining the challenges, the second on framing solutions. Commonwealth Foreign Ministers will also meet to discuss media freedom.
Conference agenda
The following sessions will be taking place:
Day 1:
transforming media development
launch of Joint Declaration on Freedom of Expression
trust in the media: the UK in focus
media freedom in the Americas: challenges and opportunities
media freedom in the Western Balkans and new ways of working
media ownership is media independence: a debate
regional mechanisms on the safety of journalists
under pressure: why public media matters
safety of female journalists
media donor event
innovation to end journalist murders
safety and protection of journalists 1: understanding the contemporary threats
supporting media freedom in challenging environments
protecting journalists in conflict zones in the Middle East and North Africa
international partnership for information and democracy
media freedom: journalists under threat
Day 2:
national statements
what is media freedom: why is it important?
what can governments do to increase media sustainability?
taking a stand: how we defend media freedom
regional session: laws, lies and liberty – the landscape of media freedom in South-East Asia
media freedom campaign: towards 2020 - sustaining the impact
navigating disinformation
safety and protection of journalists II: towards a shared solution
regional session: strengthening media freedom across the commonwealth
legal panel
religion and the media: telling the untold story
Eastern Europe and Central Asia: building an integrated support system for journalists facing hostile environments
press freedom, development and democracy in Africa
Council of Europe parliamentarian session
View the full conference agenda.
If you are a member of the media and would like to apply for accreditation to cover the conference, please apply and complete your application by 5 July. We will consider bids to interview the Foreign Secretary and the Canadian Foreign Minister, and will make a full breakdown of media opportunities available closer to the conference.
About Media Freedom
A free and independent media plays a vital role in protecting human rights and holding the powerful to account. Media freedom is the lifeblood of democracy and can be the foundation for economic prosperity and social development. It means that society can be free, fair and open. Journalistic scrutiny is an essential part of a vibrant and healthy democracy.
The world is becoming a more hostile place for journalists. Reporters Without Borders called 2018 the deadliest year on record for journalists. UNESCO confirms that at least 99 journalists were killed, a further 348 imprisoned and 60 held hostage. Freedom of expression is being stifled and barriers are preventing the functioning of an independent media. We must address this and the dangers it presents