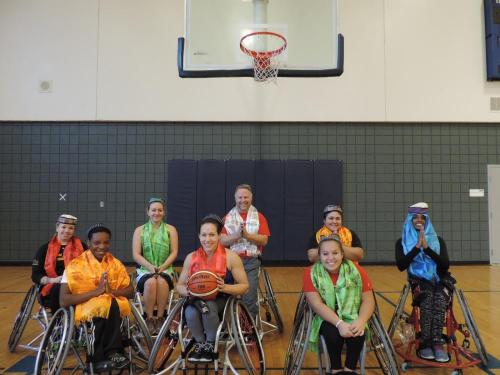 Finally the University of Arizona Women's Wheelchair Basketball Team would be traveling to Whitewater, Wisconsin for our first collegiate tournament of the 2016-17 season.  We had previously played a community team, the Tucson Lobos and barely won.  We also participated in a Lobos home tournament in which we had lost all of our games.  We continued to show improvement but I wasn't sure what to expect given that we are very much in a learning mode.  I understand that it's not all about winning, because these are (mostly) student athletes, who need to take the life lessons which basketball has to offer and become successful no matter what they decide to do. 
Prior to our trip last week I was rebounding for one of our players and was asking about what I might expect.  I had never traveled before with persons with a physical disability.  We had six players, one of whom was our other assistant coach.  This meant five day chairs and six sports wheelchairs.  (One of our players is able to walk and therefore only had her sports wheelchair.  Additionally one of our players was sick and cancelled at the last moment which proved to be fortuitous).  We also had a balls bag, big green filled with a pump, tools kit, etc. an extra wheels bag and other assorted personal bags from each of the players, to check in.
Since we couldn't use the High Occupancy Vehicle (HOV) to transport everything to the Tucson Airport,  because it was being used by another team, Coach Pete Hughes called a man named Arturo who has a son with disability and therefore a large accessible van.  We were supposed to meet him at the Disability Resource Center (DRC) on campus but he misunderstood Pete's original text message and went to the airport to pick us up although we hadn't left.  Fortunately Pete sent a text and was able to get Arturo to the DRC where we loaded up his van with the sports wheelchairs.  All of the team members were driving in each other's cars and had their day chairs with them.   
I was really wondering how we would check in with all of the items.  Fortunately, although the Tucson Airport is international it is not that busy.  We all went to the Southwest Airlines counter and proceeded to check in.  Every chair had to be inspected for any minor scrape.  Although we checked in a number of items all of the chairs were to be brought to the gate.  One of the players also has a service dog whose name changes regularly.  But thankfully this dog is incredibly low key and travels well.
Southwest does not have assigned seats but fortunately we were able to be the first ones on the plane.  Each of the players left their sports chairs at the gate and then brought their day chairs to a seat on the plane where they off loaded.  They then sent their day chairs to the gate to be checked.  Once we all were loaded the other customers boarded the plane. 
Prior to this trip I had never traveled with a sports team.  Our team has a lot of very extroverted personalities who constantly joke (and cuss) and who were very engaging with the various cabin crews.  They also tend to get very loud.  I am called Coach Namaste which adds to the silliness of the situation.  Nothing is off limits and one has to wonder what the other passengers thought.  However, in general the other passengers were quite curious about what we were doing and always seemed to smile when we told them. 
Offloading at our first stop in Denver had me somewhat concerned given that we only had 45 minutes to deplane and get on the next flight to Milwaukee, Wisconsin.  We had to wait until all of the other passengers deplaned and then had to repeat in reverse getting onto the plane.  However, the team members had it down pat.  We made it to the next gate, which was nearby in very short time and got onto the plane, except for me as I had to use the bathroom. Fortunately I was able to get on but couldn't sit with the team as the plane was very full. 
We finally made it to Milwaukee late in the evening.  Pete went to the Budget rental counter expecting to pick up a truck for all of the wheelchairs as well as a van.  He had checked and confirmed this earlier in the day but a truck was not available and we had to use two SUVs.  The question then became one of how to load all of the chairs, our luggage and the team members into the two vehicles.  Fortunately the one team member who is able to walk had previously packed things in tight places.  Somehow we loaded everything into the two cars. If the other player hadn't been sick and had come I'm not sure what we would have done.  The players in the back seats were surrounded by wheels and other items. One of the players, who is quite small, seemed to disappear into the backseat of the car that I was driving. 
We made it to the Marriott Courtyard in Brookfield around 1 AM.  I wanted to head straight to bed but people were hungry and a number of pizzas were ordered.  I do have to remember that these are growing athletes who really can't miss meals. 
Friday morning we all ate breakfast at the hotel and headed to Whitewater at the University of Wisconsin, about a one hour drive.  Our first game was at noon against Whitewater.  Driving and seeing the landscape was wonderful as the geography is very different from Tucson.  There were large areas of open fields and numerous farm houses. 
Once we made it to the University we off loaded outside of the recreation center.  When we entered there were already a number of teams playing.  It was very exciting for me to see three games in progress.  The level of play was much higher than what I had ever experienced in Nepal and I'm coming to a lot of understanding as to why. 
Our first game was against Whitewater, the home team.  We played our five players and had the assistant coach in reserve just in case.  We were getting beaten soundly until we decided to focus in on their main shooter.  In the fourth quarter we were down by 19 points.  Somehow our players rallied, and although we fell short, we lost by only seven, having outscored Whitewater 19-7.  This effort proved to me that our team never gave up and although they were tired they showed a great deal of resilience.  Unfortunately in this game one of our players, who had previously hurt her shoulder, reinjured this.  In between games we went out to Subway and enjoyed watching some of the other games. 
In the second game at 4 PM we played against the University of Illinois which is coached by the US Paralympic Coach Stephanie Wheeler.    This was exciting for me as I saw Stephanie on TV at the Rio Paralympics.  I introduced myself to her and she was very willing to chat.  I was curious to see how our team would do against this coach and team. 
Due to injury we had to play our assistant coach, herself a Paralympian, which proved to be fortunate.  Even with our assistant coach we were below the 14 point classification limit for an official game.  With a few minutes left we had a five point lead and things looked positive.  However, we threw the ball away a few times.  In the end we triumphed.
We drove back to the area of our hotel and went to Buffalo Wild Wings, a restaurant/sports bar with numerous televisions playing every sport.  I hadn't been in this kind of facility before and didn't quite know where to look. 
When we went outside the temperature had dropped at least 20+ degrees and with a wind whipping, it was all of a sudden quite cold.  Since the hotel was across the road we piled back into the SUVs and everyone went to their rooms.  I went for a swim which felt good after a rather long day.  When I got back to the room Pete was watching tape from our last game.  Fortunately, one of the player's mothers filmed the game for us which meant that I could be on the bench next to Pete.
From tape we were able to see how we could improve and the next morning we brought all of the players into our room to watch.  We were also surprised to see a dusting of snow.  We checked out of the hotel and loaded everything into the SUVs.  We had left the sports wheelchairs at the gym, therefore neither car was as packed as when we came from the airport.
When we arrived in Whitewater, there was also a football game taking place as the school has one of the best Division III teams.  It was so cold but people were tailgating at 9.45 AM before the game. 
Our final game was against Canada who has a number of tall women.  Our assistant coach would have to play the entire game as the team member with a shoulder problem was still hurting and couldn't play.  The Canadian team consisted of a number of national players but they also were hurting.  Given this they played at 17 or so classification points, so this wasn't an official game.  Although we did well in the first half, we were tired in the second and this showed.  Being tall in a chair is quite an advantage and we couldn't keep up with the Canadian team.
The team members showered; we ordered some food from Jimmy Johns and watched the Whitewater-Illinois Men's game which was a good one.  The Illinois Men's team is coached  by Matt Buchi a gem of a person.  He was the only coach to wear a coat and tie.  During the game I was able to speak with Stephanie Wheeler a bit.  I also introduced myself to a number of players on the other teams and they were all very happy to talk.
Finally we again loaded everything into the two SUVs and drove to the airport doing everything once again.  We transited in Las Vegas and it was quite startling to see slot machines in the airport. 
We made it back quite late as the Las Vegas to Tucson flight was delayed.  Pete and I loaded all of the sport wheelchairs into his van and we brought them back to the DRC around 1.30 AM on Sunday.  I made it home by 2.15 AM.
This was a really good trip and gave me some knowledge as to what we would be doing a lot of from January-March 2017. 
The team members really know what they are doing and they do it all with a lot of joy and laughter.  All of the knowledge that I'm gaining is something that I can eventually take out further into the world to help those with less resources to also play.  This is a future that I'm treasuring and for now it's enough to be part of the University of Arizona Women's Wheelchair Basketball Team.