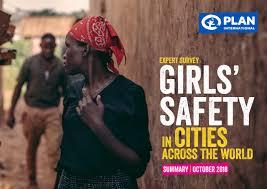 Stockholm is the safest city for sexual harassment and for girls to leave the house alone or use public transport
Cairo is the city with the most ineffective laws and policies around girls' safety
Istanbul is the city where girls' views are taken on board in policies and planning about safety the least
Tokyo is the safety city for theft or robbert but also the city where girls have the least opportunity to participate in decision-making about safety
Hanoi is the safest city for sexual violence
Kampala is the city where girls are most at risk of kidnap and murder
Johannesburg is the most dangerous city for theft and robbery and sexual assault/rape
Lima is the most unsafe city for a girl to leave the house alone or use public transport, both at night and during the day
https://plan-international.org/ending-violence/safer-cities-girls
Creating safer cities with and for girls
The Safer Cities for Girls programme has been developed with partner organisations UN-Habitat and Women in Cities International.
The programme goal is to build safe, accountable, and inclusive cities with and for adolescent girls (aged 13-18). The expected outcomes of the programme include increased safety and access to public spaces, increased active and meaningful participation in urban development and governance and increased autonomous mobility in the city for girls.
The global programme is currently being implemented in eight cities. Delhi, India; Hanoi, Vietnam; Cairo, Egypt; Kampala, Uganda; Nairobi, Kenya; Lima, Peru; San Francisco, Paraguay, and Honiara, Solomon Islands. We hope to scale up to 20 cities globally over the next few years.
GIRLS' VOICES CRUCIAL FOR SAFE CITIES
Safer Cities for Girls works to tackle unequal power relations and challenge harmful social norms that perpetuate the insecurity and exclusion of girls in cities. 
The programme provides girls with a platform to discuss the issues they face and the opportunity to provide input into the development of their cities. It is essential that girls are listened to so their specific needs around sanitation, education, public spaces, transport and access to city services are addressed.
The programme works with governments and institutions, families and communities, and girls and boys themselves so they can become active citizens and effective change-makers.