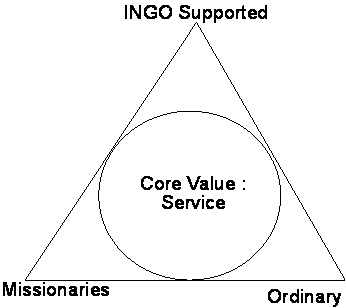 Expanded Concept of Volunteering and linkage to Tourism By Manoj K. Giri (Chairman, Alternative Volunteer)
Background
Thousands of foreign tourists visit Nepal, particularly for the Himalayan experience, and some are keen to be involved in volunteering. Good intentions, in terms of volunteering work, also mean immersion in the Nepali life style and culture. A few days of volunteering can result in great memories as well as some bitter truths. 'Volunteering' is, thus, passing through the 'positive message' phase while also turning into a source of mass tourism.
A vast majority of volunteers are interested to work in Nepali orphanages and, usually, they are interested in teaching. Gullible tourist attention, however, has been exploited. A number of children have at least one single parent. Interest in education, in Buddhist monasteries, in environmental work, health, construction and informal sectors is also growing.  
History
The civic engagement culture here has evolved, through time, wherein the environment, lifestyle, habits and habitat have drawn from a strong cultural foundation. As a development process involving cultural values, it has entailed a long process in many geographical regions. Shifting social values mean that the old system is destroyed and displaced by a new way of life where tradition is devalued. Volunteering initiatives have also been labeled as taking advantage of poverty, illiteracy and underdevelopment in Nepal. The Government does not recognize the long-term impact of destroying time-tested cultural values and practices.
Types of Volunteering
Foreign volunteers in Nepal arrive here as tourists and commit their time, ideas and money to the community. In Nepal and in other developing countries, there are three types of volunteers:  
Missionaries   2. INGOs supported   3. Ordinary
Connection to Tourism
In broad terms, 'Volunteerism' is transforming into 'Voluntourism'. Voluntourism is a form of ethical tourism which means spending one's money and time on services and goods that support local people and the local economy. It also involves setting some time aside to engage with local people. Voluntourism falls within the wider arena of cultural tourism and has created tourism opportunities for Nepal as well. In conclusion, 'Volunteering' is gaining ground in tourism in developing countries and the Government must formulate a suitable policy that will effectively tap this potential.