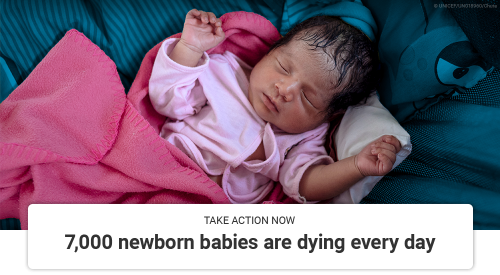 Click here and sign the petition:
https://www.unicef.org/every-child-alive/#anchor_102590
We are failing the world's youngest citizens. Although the world has made dramatic progress in reducing global rates of under-five child mortality, newborn deaths have declined at a slower pace.
 
A child's birth and the 28 days that follow are the most dangerous period of her life. Almost half of all under-five children who died in 2016 were newborns.
 
These children are not dying because we don't have the tools to save them. More than 80 per cent of all newborn deaths are caused by three preventable and treatable conditions: complications due to prematurity or during delivery, and infections like sepsis, meningitis and pneumonia.
 
But treatment and interventions are not reaching the mothers and children who need them most – the families who live in the most disadvantaged areas, enduring the harshest conditions.
 
No parents should experience the heartbreak of watching their child suffer or die.
 
The world can and must do better.