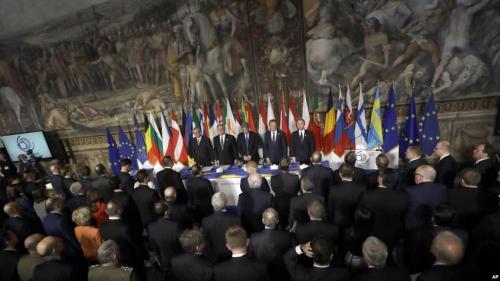 Today is a special day for all the European citizens as the European Union, EU, is celebrating its 60th anniversary through a special ceremony being held in Rome, the venue where the founding treaty was signed.
Amid growing skepticism and criticism, the European Union is one of the greatest achievements of modern history, an example on how countries can reconcile among themselves after centuries of blood that caused the death of millions of people.
 If you are born in one of the member states of the EU, you do not necessarily feel European but rather you might reject this idea of "unity amid diversity" and feel proud of your own roots, of your own countries.
In times of economic crisis, terrorism threats,  there is an increasingly high number of people in Europe that have decided to step back and reject the idea itself of a united Europe.
After all, it is hard to think long term, about a common European project when you have to deal with many threats and problems. Nationalism is the easy way to expose your outrage and protest against what's going on now around the world.
Putting in question the framework of continental integration is a response to the multiple crises faced and experienced by millions of citizens throughout the EU.
Yet there is no better way to solve the current problems than enhancing our integration, maintaining a solid pride of our own national and local roots while heralding common values, the European values that are now too often forgotten.
When I am talking about European values, I am talking about principles like fairness, justice, solidarity that were the bedrock of the European model of democracy, combining liberalism with a strong social dimension.
The Euro, our common currency did not help sustaining this model but actually it was instrumental in endangering the fabric that made the European's way so successful.
I believe that having a common currency is really an amazing example of integration but the problem was the way the Euro was modeled and introduced.
A strong focus on budget discipline while technically understandable and justified went well too far and exacerbated further an economic malaise in many member states, especially in the South.  
A recipe exclusively based on austerity blocked any form of economic progress in these member states whose economies were already struggling.
Now the focus has been re-balanced towards a common framework of investments across the Union but the damage, a deep one was already done.
The flow of refugees certainly did not offer any sort of reassurance to millions of European citizens struggling amid the economic crisis.
We are facing difficult times not only because of Brexit but also because certain member states from the eastern side of the Union are doing their best to block any new initiatives to further the integration process.
I am totally convinced that in order to prosper the nations forming the EU have no other options than joining their hands and move on with the integration process with its painfully complicated way of operating.
Only together we can prosper. Only together we can re-launch our model of society based on capitalism that is a result of a mix of private and public interventions and partnerships where the state and local governments work together with the private sector and representatives of the working class to chart the future.
Within the Union there is plenty of diversity and this one of our biggest strengths because from this incredible level of diversity, we can enrich ourselves and learn from each other.
You can be a citizen of your own region, you can be a citizen of your own nation but at the same time, you can be a citizen of Europe.
Do not be surprised if the next time you asked me where I am from, I will proudly say I am from Europe.
After all, who I am if not a European from Milan in the amazing though often messy Italy?
We all have to be proud of what we achieved in these 60th years of Union and much more will come.
No matter Brexit, no matter even if more member nations will leave the Union, we live in an era where we can thrive only by standing united and fight back together the legitimate concerns and fears of many of us feel so overwhelming.
The process of further integration will depend on the ability to listen and reach out those rejecting the values who are underpinning the Union.
We first need to understand, respect and acknowledge that many of us want to turn back the page of history and then only, accepting and bringing on board some of their valid points, we can offer a new and bold course that will bring more prosperity to all of us. We need a smart integration where we stand together where it matters most.
A real confederation or federation of nations with one foreign policy, one army, a common taxation system and one development aid cooperation is the only way forward.
Happy 60th Anniversary dear EU!