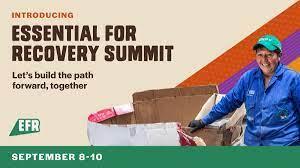 https://socialprotection.org/discover/events/online-event-essential-reco...
We are the people who have kept essential services operating through the COVID-19 pandemic — and long before. We take care of children and older people, we provide critical social and health care, we grow, sell and deliver food, we make the things you wear and use. We are the backbone of our communities and the global economy and yet, we are often invisible and undervalued. The global recovery from COVID could leave us behind.
That's why we are proud to announce the Essential for Recovery Summit, the first-ever global essential workers forum that gives voice and visibility to essential workers all over the world.
Join us September 8-10 for three days of programming where world leaders and essential workers from across the globe will lay out a vision for a just economic recovery that prioritizes the rights of workers, their health, and the well-being of their families and communities – particularly the poorest and most vulnerable.
We'll tackle the most urgent challenges facing essential workers today including:
Increased income and improved working conditions
An end to sexual harassment and violence
Healthy and safe workplaces and access to healthcare
Social protection benefits and support for vulnerable workers
We'll hear stories, have conversations, and feel compelled to make commitments to a more fair, just and inclusive environment for ALL essential workers.