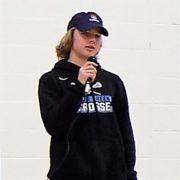 I started my new job at BridgeIISports on March 1 and have been very engaged since day one.   I'm learning how to play a variety of adapted sports and the opportunities that my new role of working in the North Carolina school system will bring.  Although I haven't formally started making presentations, I've participated in a number of events including at Duke University where we taught wheelchair basketball, sitting volleyball, boccia to Doctor of Physical Therapy and  Physician Assistant students  in the 8th annual Adaptive Sports Event. I also participated in an event at Reedy Creek Middle School where I taught able-bodied students basic wheelchair basketball skills as part of an effort to raise money for one of the BridgeIISports athletes Nolan who is currently on dialysis and awaiting a kidney transplant. 
During my life I've always enjoyed hearing other people's stories.  One story that I came upon from the first event that I participated in was that of Ryan Stine.  I met Ryan at a wheelchair basketball fundraiser (where able bodied students paid $20/person to play) for BridgeIISports by his NGO Endless Sports which he started in 2013 when he was nine years old.  Their mission is to, "overcome obstacles so all athletes, regardless of disability or income, can succeed."
Ryan has a passion for sports and plays competitive lacrosse. He has also turned his passion into doing good for those who haven't had similar opportunities.  To date Endless Sports has raised approximately $10,000 and donated $5000 worth of equipment.  They've held four Trick or Treat for Endless Sports events, five wheelchair basketball events, and one summer camp.  They've also collected sports equipment for the YMCA's Santa's Workshop.
Although Ryan's parents wanted him to participate in other activities, e.g. Boy Scouts, beside sports, he only wanted to play.  His parents eventually agreed but on the condition that he found a way to give back to the community.  Ryan enlisted the help of two of his friends and with them and the support of their families Endless Sports became a reality.
Ryan also knew that he had to partner with other organizations.  When Ryan was nine he met the Director of BridgeIISports, Ashley Thomas at a wheelchair basketball event.  Ryan immediately wanted to do a wheelchair basketball event and Thomas said you can do an event for BridgeIISports as long as you raise a minimum $1,000. 
But before this Ryan and his team had to "test the waters".  They put together a wish list of sports equipment that would benefit the Boys and Girls Clubs of Durham and Raleigh, North Carolina.  They reached out to the sports teams they were involved with (soccer, basketball, swim, lacrosse, football, and baseball) and asked them to participate to trick or treat throughout a neighborhood a few nights before Halloween.  They distributed flyers describing their mission of collecting sports equipment and holding a wheelchair basketball tournament.  They asked people to donate new or used equipment or money to sponsor the tournament.   Through the support of the community they raised nearly $2000 and collected over 50 items of sports equipment! 
After this Ryan approached the Town of Cary to help host a wheelchair basketball tournament.  The first tournament enabled Endless Sports to give $1700 to BridgeIISports in support of the Junior Thunder Wheelchair basketball team.
By partnering with US Lacrosse and by receiving two of their grants (soft stick program and diversity and inclusion grants) they started a lacrosse clinic program last summer.  They partnered with the YMCA Camp High Hopes to introduce disadvantaged youth to the game of lacrosse.  They have also worked with Cary's Specialized Recreation and Inclusion Department to schedule their first Try It  Lacrosse Clinic for athletes with disabilities. 
I asked Ryan why Endless Sports partners and he said, "because it makes us more powerful, knowledgeable, and efficient. We can reach more people and do more things when we work together. One organization may have an audience we can reach easily and just add our programming.  Others may have ideas, but not enough volunteers to carry them out.  Another may have established rules and procedures we can learn from and adopt.  Some organizations might be looking for ways to support the community."
Ryan and the Endless Sports story shows the power, that even nine-year old's possess, to bring about change.  The March of Our Lives anti-gun protests recently showed how youth can/need to change the world. Nepal demographics indicate that more than 50% of the population are under 25 years old.  Can you imagine what might happen if this demographic understands the power of partnering, not only for making money, but to bring about positive social change?  As shown by the example of Endless Sports, anything is possible.