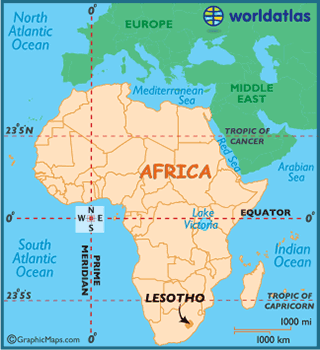 Do you know there were elections in Lesotho? Do you that once again we will have a standard transition and again high risks of returning to political instability?
It is not a fault of the tiny African nation if democracy in developing countries is not that effective and often it is a key element of destabilization rather than consolidation and national unity. The problem is more about the way democracy or better electoral or representative democracy is delivered and experienced.
Now few facts about Lesotho's elections.
At the end of December last year, I wrote a couple of pieces on elections held in Tonga, the archipelago nation in the middle of the South Pacific Ocean. Normally these kinds of events are totally overlooked by the mainstream media.
Now it is the turn of Lesotho a tiny nation cut out of the much larger South Africa but totally sovereign and independent.
Lesotho is a country in transition where the two Ds, Democracy and Development get blurred in their outcomes and no one really knows what comes first, democracy or development, a chicken and egg kind of question.
The country has had a tumultuous past with lots of political infighting, the last happened in 2014 when then Prime Minister Thomas Thabane had to flee the country for South Africa. Only after weeks of intense negotiations and mediation by South Africa and SAARC, was he able to return safely to his home country.
The elections which just took place are the outcome of the agreement that had allowed  PM Thabane to return to Lesotho.
The All Basotho Convention (ABC), Thabane's party took most of the votes and he will continue to govern while the opposition Democratic Congress won 37 constituencies.
A statement from John Kerry, the US Secretary of State, congratulates the people of Lesotho for the free, credible elections just held.
The statement says "The United States shares the hopes of the Basotho that these elections will allow Lesotho to move beyond a period of political uncertainty and strengthen national unity. This commitment is essential to provide a foundation for an effective, accountable government that serves the needs of the people".
Hopefully compromise and common sense will prevail this time and extreme partisanship and short term political gambling put on hold.
Democracy is about competition with those winning most of the votes being able to govern. Democracy is also about cooperation and being able to reach out to those who lost. Democracy should be inclusive with ways for the people to have a voice heard beyond the casting of their votes.
Unfortunately representative democracy is in a deep crisis. The citizenry is losing faith in the politicians they vote for. As a consequence many people lost trust in mainstream parties and are pulled by radical parties preaching change. This is what happens in Europe right now.
Each country faces different challenges but a truly democratic framework allows people to express themselves directly or through civil society.
The more open the framework is, the more people will feel part of it rather than feeling sidelined and marginalized like is happening in Europe.
The common thinking is that people in a country like Lesotho just think about meeting their basic needs, they do not really care about voting or democracy. I think the assumptions at the base of this way of thinking are wrong.
You might be poor and living in deplorable conditions but real democracy from the bottom can give you entitlement and a sense of agency, of belonging.
Rhetoric as it might sound, democracy should per se on the concept of good and participatory governance: not only being able to elect your representatives from local to national levels but also to actively be involved in the affairs of your communities.
Volunteerism or service can play a very important role in fostering a sense of living in a community where you feel empowered simply because you know that your voice is heard and your action counts.
Think of those really at the margins in society like Lesotho. Obviously meeting primary needs is a question of survival but then if allowed to vote freely, if allowed to express themselves, if there are venues to lodge complaints, if the justice system is ruled according to principles of fairness, then the same people living at the margins can feel a sense of empowerment.
They can feel and see that there might be a way out of their misery. Hope must be nourished and it starts with small things at the ground level.
Being able to send their children to school without paying a bribe, not feeling humiliated or discriminated simply because you are from a different group or caste or you speak a different language are essential traits of a society that is laying the foundations for a brighter future.
Good governance should be implemented in small, tiny acts on a daily basis.
Hopefully this election in Lesotho will set a new beginning but all over the world a general rethinking about the true features of democracy must take place. Democracy must be real. Democracy does not give you food but, if practiced genuinely, it is a real enabler for positive changes in society.